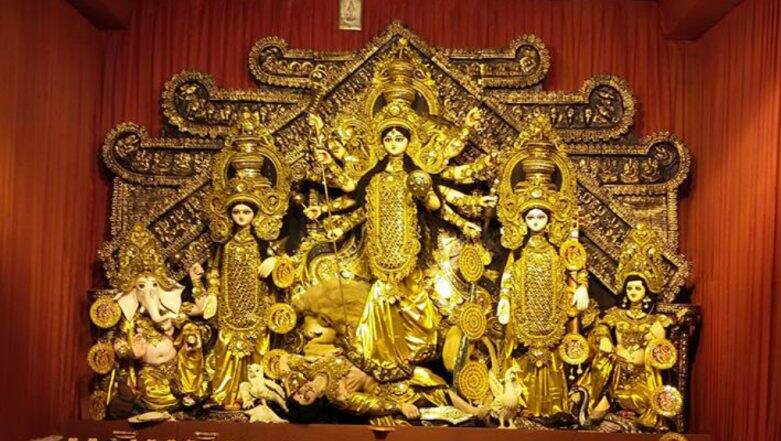 Durga Puja or Durgo Pujo as it is called, the religious festival revering Goddess Durga is an important event in the Bengali community. More popular in the North Eastern parts of the country, it sees one of the biggest celebrations in West Bengal. This year, the Durga Puja at Salt Lake Kolkata will get extra special as it gets a Chinese touch. Wondering what China's got to so with Durga Puja? Then let us tell you, a lot. China has been showing more interest over the years in the cultural traditions and festivities surrounding the Durga Puja. Now to establish a more cultural and commercial connect with Bengal, their consulate is all set to sponsor the Durga Puja at Salt Lake in Kolkata, the oldest ones in the state.
The Durga Puja at this venue is traditionally organised by the BJ block, but this year it will get a Chinese makeover! All the funds required for the theme decorations, the pandal and the deity will be taken care of by the Chinese consulate. So Durga Puja atmosphere here will almost turn into a mini China town. This is not the first time they are making an effort to participate in the traditions. Although the relationship between India and China had stiffened during the border standoff, the consulate positively involved in the celebrations of the Durga Puja. This year, they decide to go a step further and take care of the organisations.
Although it will not be entirely sponsored they plan to send a team of artists and artisans to China to train them about Chinese designs."Durga Puja of Kolkata is an experience and it transcends religious thresholds, bringing everyone together. Naturally we at the Chinese consulate have also become quite involved in the festivities," said consul general, Ma Zhanwu to Times of India report. This year they literally plan to get China in Kolkata's Salt Lake area.  The grand amalgamation of two cultures this time will see Chinese flute music, dragon dance and acrobatics. These artists will also be specially flown in from China during the festival. The BJ block secretary is only happy to welcome them.  "Hope this grand theme that we are drawing up with the consulate works out well. In the coming weeks, we will hold several rounds of talks with the consulate to firm up the plans," Ghosh Dastidar said in the same report. This year the budget will also be more because of the elaborate plans to get in everything. Wonder how the traditionally revered Durga Puja will look in a Chinese feel to it? We are not quite sure.