Social media can be a great medium to know about what's happening in parts of the world if it is not much in news. Right now, there are a lot of updates coming about the floods in Assam. Several districts of the state have been flooded severely affecting over 9 lakh residents. Among the devastating pictures and videos from the place, pictures of a boy rescuing a deer fawn from flooded waters are going viral on social media. He is being called the "Real Bahubali of Assam". The boy is seen holding a deer fawn in his hand and walking through the water which nearly submerges him whole. He is being lauded for saving the deer's life. But as heartwarming as it is, this is not from Assam. These are nearly pictures from 6 years ago from the flood situation in Bangladesh. Assam Government Has No Funds and Asking People for Contribution for Flood Relief? PIB Debunks Fake News; Here's the Truth.
There are three pictures being shared online which show the boy rescuing the deer fawn. In one of the pictures, the boy is completely underwater holding the fawn up in his hand. The third picture shows him with the saved baby deer. These pictures have reminded people of the scene from the popular movie Bahubali. Many are drawing the resemblance and appreciating the kid for saving the deer. It is really heartwarming instance but is it really from Assam? The caption by one Twitter user reads, "Real "Bahubali" of #Assam who saved a fawn from drowning." The pictures are however from Bangladesh from the year 2014. In fact, the same pictures have been shared almost every year during any flood crisis.
Check The Tweet Here:
Real "Bahubali" of #Assam who saved a fawn from drowning. pic.twitter.com/Wrm1Dppohk

— Rakshith Shivaram/ರಕ್ಷಿತ್ ಶಿವರಾಂ (@bkrs100) July 18, 2020
The pictures are going viral as you can see it has got over 7,000 retweets. Some people did point out in the comments that these are not from Assam floods.
A quick search on the internet takes us to the instance being covered in the year 2014. The incident took place in the Noakhali, Bangladesh. As reported in Daily Mail, the deer fawn was separated from its family and a local named Belal braved his own life to save it. Belal took the deer from one side to another and even helped it reunite with its family. So while the incident is still heartwarming, it is also important to note the accuracy of such claims that go viral on social media.
Fact check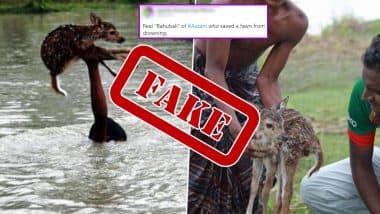 Claim :
Real Bahubali of Assam saving a deer fawn from drowning.
Conclusion :
The claim is fake, the pics are not from Assam.
(The above story first appeared on LatestLY on Jul 21, 2020 09:24 AM IST. For more news and updates on politics, world, sports, entertainment and lifestyle, log on to our website latestly.com).