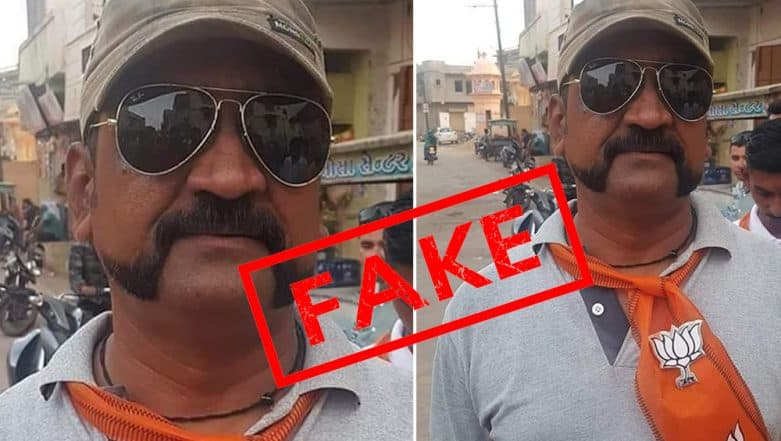 Abhinandan Varthaman, the hero pilot who downed the Pakistani F-16 warplane during the aerial dogfight in February, has joined the ruling Bharatiya Janata Party (BJP)? Twitterati has, yet again, fallen victim to another fake news ahead of Lok Sabha elections 2019. The Wing Commander is still a serving personnel of the Indian Air Force (IAF), which along with all other units of the armed forces, remains apolitical.
Following his valorous return from Pakistan, Abhinandan turned into a revered figure, with scores of people across the nation spotting hairstyle, moustache and beard akin to him. One in Two Indians Receiving Fake News Through WhatsApp & Facebook Platforms Ahead of Lok Sabha Elections 2019.
Images of the Abhinandan-lookalikes have allowed fake news peddlers to run another campaign on the social media, in an apparent bid to influence voters ahead of the general elections.
Check Below the Spree of Fake News Being Spread on Twitter:
2019 मे वोट सोच समझकर डालना मुझे राजनितिक पार्टियों से कोई मतलब नहीं.

अगर मोदीजी प्रधानमंत्री बने तो मैं राफेल लेकर पूरा पाकिस्तान घुमने जाऊंगा !!!......................😂😂😂😂 #Sher tweet @abhinandan pic.twitter.com/wvl3hDQk9g

— JYOTI SINGH (@JYOTIBHATI_4BJP) April 6, 2019
"Unedited", But Still Fake!
ये फ़ोटो ना फेक है और ना एडिट किया हुआ।।

विंग कमांडर अभिनंदन ने बीजेपी को वोट डालकर मोदी जी का अभिनंदन किया ❤🇮🇳❤ pic.twitter.com/oIJTJMgPUe

— चौकीदार राजू तिवारी (सलखुआँ) (@IAmRajuTiwari) April 13, 2019
"Openly Campaigning For BJP?"
विंग कमांडर अभिनंदन जी ने खुलेआम बीजेपी का समर्थन किया है और वोट भी डाला है मोदी जी को प्रधानमंत्री बनाने के लिए और इनका कहना है वर्तमान में मोदी जी से अच्छा प्रधानमंत्री कोई दूसरा नहीं हो सकता दोस्तों पहुंचा दो जिहादियों और कांग्रेसियों तक तुम किसी जवान को जिंदा वापस ना ला सके pic.twitter.com/ZK2D2ig8j9

— #तानिया_शर्मा_(चौकीदार)#BBSS (@tanisharma77) April 13, 2019
Another One Fells Victim
ये फ़ोटो ना फेक है और ना एडिट किया हुआ।।

विंग कमांडर अभिनंदन ने बीजेपी को वोट डालकर मोदी जी का अभिनंदन किया ❤🇮🇳❤ pic.twitter.com/oIJTJMgPUe

— चौकीदार राजू तिवारी (सलखुआँ) (@IAmRajuTiwari) April 13, 2019
The propagandists also use WhatsApp, another mass medium, to spread the factually baseless claim. The fake news on messaging application finally reached a retired personnel of the armed forces.
Group Captain (Retd) Christopher reached out to the communications wing of the IAF on Twitter, and asked the Air Force Media Department to act against the miscreants.
Here's What He Said:
Dear @IAF_MCC received these 👇👇👇 on WhatsApp (sent to me for verifying the truth)

Will action be initiated against those spreading fake news?

Please don't allow politicisation of the Armed Forces.@Twitter@TwitterIndia may like to look into this pic.twitter.com/YAQVGAkYVE

— Gp Capt Christopher (Retd) (@bcchristopher) April 14, 2019
LatestLY urges all our readers to remain cautious of news being spread on social media platforms. While fake news is a year-long, ever-green menace, the politicisation of armed forces ahead of the elections is a much more serious issue.
Fact check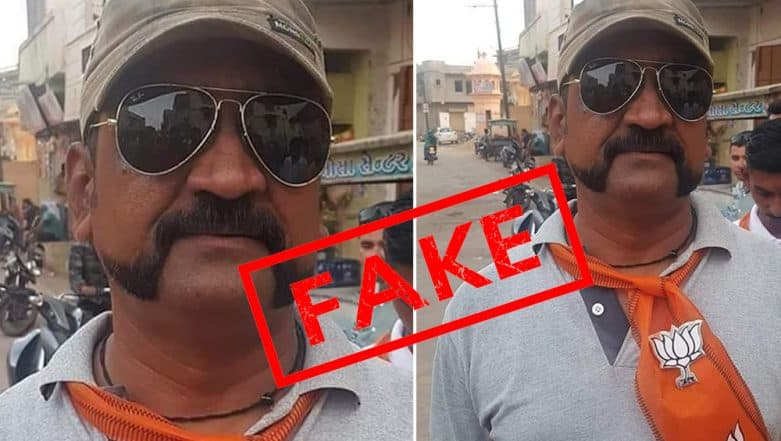 Claim :
Abhinandan Varthaman has joined the BJP?
Conclusion :
Fake news being spread using a look-alike's image.