Mumbai, July 4: A female sports journalist, who freelances for various organisations, accused a senior editor from Bengaluru of sexual harassment on Wednesday. In a Facebook post, the woman journalist described how the editor, who has not been named, was harassing her and other girls through fake profiles and other means.
"Me and a couple of other female sports writers have been the victim of harassment over the last few weeks - from the same person," the journalist wrote in her Facebook post. She further alleged that the accused makes fake accounts of girls "to talk of the most disgusting things ever".
A fellow male journalist, who claims that he has targeted several young girls, explains the modus operandi of the senior journalist. "He begins chatting with these girls by praising their writings. And it's a big deal when such a senior journalist goes out of his way to praise your work. He smooth talks to them about various subjects and then diverts them to a certain 'Mahreen Hasan', who happens to be a fake profile, as we have figured out. Then this 'Mahreen Hasan', who can be anything - from a writer to a physiotherapist - forces girls into sex chats and urges them to send naked photos."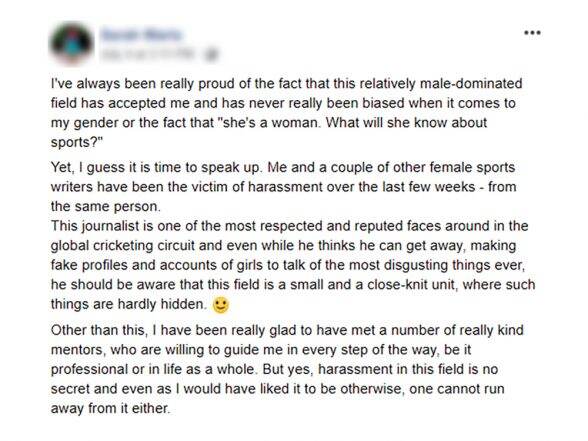 Another male journalist, who doesn't wish to be named, adds, "He makes them job offers in the high-profile organisation, even if they don't fit the bill. He will invite them for drinks or coffee and persist even if they refuse his offer. After a point, for girls, who are half his age, it becomes difficult to say no to their boss. The funny thing is that he makes these conversations only with young girls who are new in the profession."
As is the case with the girl who came out making allegations against him, several other girls have preferred to keep their silence, knowing the influence of the accused can harm their careers. Sources claim that he is one of the biggest names in cricket journalism globally.
The girl who came out through a Facebook post has been hailed for taking the bold move. One of those who shared her post said, on condition of anonymity, "It was very brave on her part to have come out since we all have known that he is a sleaze, but we have simply avoided him. She doesn't need to name him because everyone in the cricket journalism fraternity known who he is."
"As per the rumours doing the rounds, he was even sacked from his previous organisation for sexual harassment. It's a shame that none of the senior journalists cared to take a stand against him all these years, and left a young girl to stand up for herself. They are also equally responsible for such a culture to breed in, and allowing him to survive in our system and grow so influential," he added.
A similar campaign called 'Let Her Work' has been started by female sports journalists in Brazil and is now being taken forward by women scribes in sports across the world.
(The above story first appeared on LatestLY on Jul 04, 2018 04:52 PM IST. For more news and updates on politics, world, sports, entertainment and lifestyle, log on to our website latestly.com).