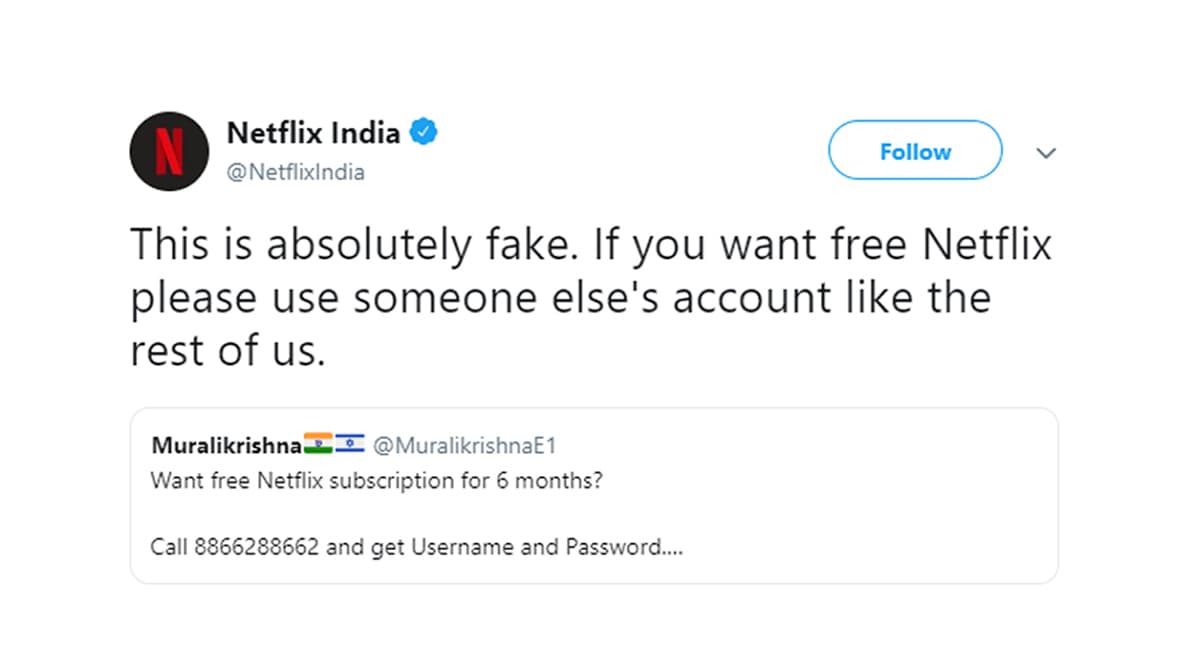 The internet cannot be called a reliable source of information these days. A lot of fake news and messages are being circulated on social media and one of them is now misusing the BJP tollfree number for support CAA. There are a lot of tweets on social media which are asking people to contact on 88662-88662 to get free Netflix subscription, free mobile data to even hot chat with girls! Now Netflix India's official Twitter account has dismissed the fake news but in their own witty way.
Netflix India's social media account is active with the latest trends and meme formats and often posts tweets in tandem. They subtly promote the content they are streaming with their audience. On Twitter, when some people try to misuse the contact number provided by BJP in light of recent crisis over CAA, for free Netflix subscription, they addressed it in a witty way. While the account tweeted, it is fake, they said one can only get free Netflix subscription by using their friends' account, which most of the people do today. Netflix India Tweets Sacred Games 2 Dialogue Asking Users For Their 'Samasya' and Offers Funny Solutions.
Here Are The Fake Messages About Free Netflix Subscription:
Want free Netflix subscription for 6 months?

Call 8866288662 and get Username and Password.

Promotional offer, valid only for first 1000 callers.

Try your luck 👍🏻

— Muralikrishna🇮🇳🇮🇱 (@MuralikrishnaE1) January 4, 2020
Check Netflix India's Tweet Below:
This is absolutely fake. If you want free Netflix please use someone else's account like the rest of us. https://t.co/PHhwdA3sEI

— Netflix India (@NetflixIndia) January 4, 2020
Well, those who watch Netflix regularly, well we all at some point have asked our friends for their login credentials and streamed shows/movies. The streaming platform has used the same technique to address the fake message.