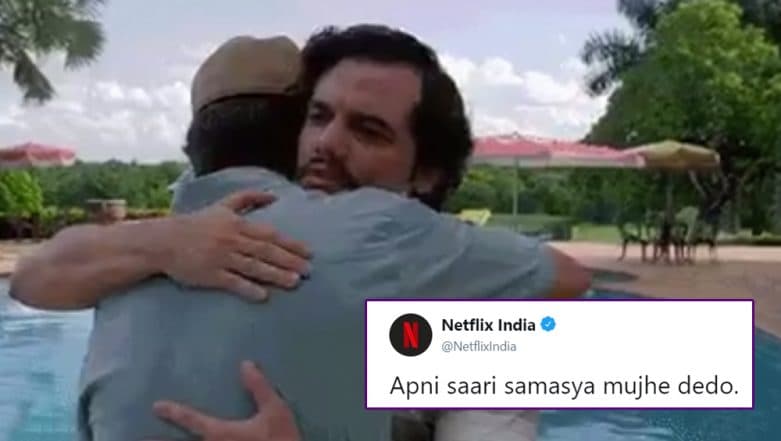 Netflix, a video-streaming application which has become a great source of entertainment for many people these days, is quite active on their social media account. Netflix India's Twitter account especially is known for their witty tweets. The much-awaited second installation of popular web series Sacred Games was released this month on Netflix and they created a lot of excitement with their tweets anticipating the release. Recently they asked people to share their problems with them and also gave clever replies to all those who shared. Netflix India tweeted, "Apni saari samasya mujhe dedo", a popular dialogue from the Sacred Games 2 series. As people got to share their problems, the gave out quick and witty replies to each one.
By now, most people have watched, reviewed and given their own takes on Sacred Games 2, Netflix India seems to still be in the mood. In fact, a lot of funny memes and tweets were also trending on social media for quite some time, after its release. Even before the release of the second season, there were funny memes on Twitter about binge-watching the show. In the latest tweet, Netflix India quotes a famous line of Guruji to Ganesh Gaitonde in the second part of the series. Netizens shared their problems and the Twitter account replied with funny and witty solutions. Netflix Proves Radhika Apte Is 'Omnipresent' Using Zomato's Kadhai Paneer Tweet! Know How.
Check Netflix India's Tweet Here:
Apni saari samasya mujhe dedo.

— Netflix India (@NetflixIndia) August 30, 2019
You are Hungry!
Am I the only one who read Samosa😂

— Dil Nawaz (@ConsiderMeHappy) August 30, 2019
The Problem is You!
Tum hi Sab se badi smsya ho

— Yogita🦋 (@momo_classygirl) August 30, 2019
Netflix's reply:
Arre bhai, bhai, bhai.

— Netflix India (@NetflixIndia) August 30, 2019
Laundry service?
The Laundromat, coming soon. You can check out the trailer here.https://t.co/zCdjAZVUdT

— Netflix India (@NetflixIndia) August 30, 2019
Replying in the same vein
Apun picture banayega.

— Netflix India (@NetflixIndia) August 30, 2019
A lot of people made requests to Netflix to pay for their subscriptions. But of course, those problems did not get a smart solution. Netflix India is known to make such witty tweets and this is just one example. But one thing for sure, they haven't yet gotten out of the Sacred Games 2 mood.