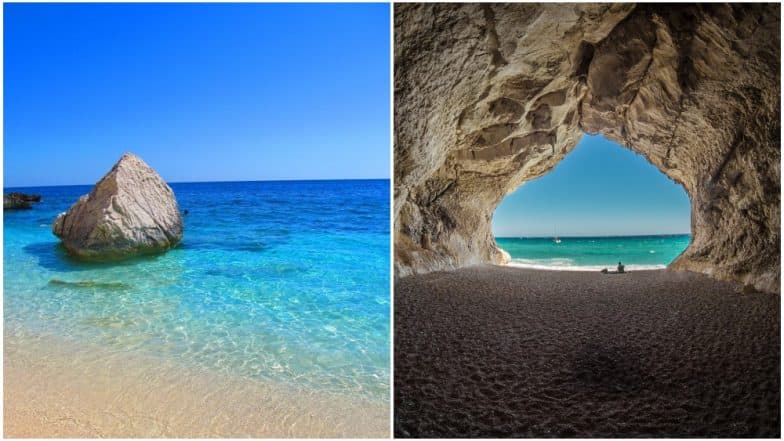 A French couple who tried to steal 40kg of sand from Sardinian beach in Italy has been arrested. The tourists will be facing six years in the prison for trying to smuggle sand from the pristine white beaches. Defending themselves, the couple said that they did not know about the strict laws of the island. The pair had filled 14 bottles with the sand grains trying it sneak it out of the island. They were caught after they loaded it on their SUV truck trying to smuggle it by ferry to the Toulon i France.
This is not the first time tourists were caught red-handed trying to steal sand from beaches. In the past too, tourists have taken Sardinian sand and sold it online illegally. In 2016, a woman who had taken sand from Budelli, an island off Sardinia which is known for its pink sand beach, returned it after 29 years. She also wrote an apology note saying, "I read in some newspapers and heard on the TV what this sand is and how it is made. I understood how unique Sardinia is. I felt guilty." Blue Glow on Chennai Beaches! Bioluminescence Spotted, Visitors Enthralled by Beautiful Sight But Phenomenon Indicates Climate Change; See Pictures.
Since 2017, trading pebbles, sand and shells is a punishable offence with fines upto €3,000 (USD 3,326). While taking sand from the beach may not sound like a big crime, scientists are against the practice. Sardinian environmental scientist Pierluigi Cocco told the BBC that Sardinia's sandy beaches are under threat from both erosion and tourists taking away the sand. It is one of the popular attractions of the place.
Cocco was quoted as saying, "Only a fraction of the tourists visiting Sardinia spends their time digging up to 40kg of sand each. But if you multiply half that amount times 5 per cent of the one million tourists per year, in a few years that would contribute significantly to the reduction of beaches."