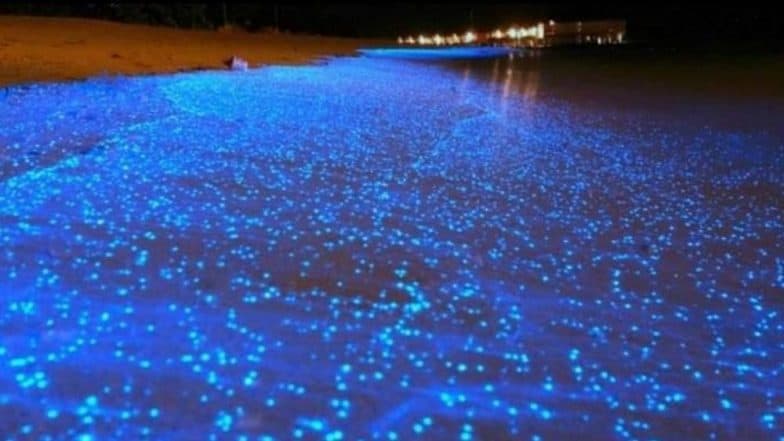 Chennai, August 19: Visitors at the Thiruvanmiyur beach in Chennai had an unusual sight to witness this weekend as they spotted bioluminescent waves along the shore on Sunday. Videos and pictures of the beautiful sight went viral on social media. The blue glow was also spotted at Besant Nagar's Eliot's Beach. Optical Illusion Baffles Internet! Viral Image That Looks Like a Beach Is Actually a Broken Car Door.
Wondering what is the blue glow? Noctiluca algae were behind this phenomenon, which is also called sea tinkle. The algae exhibit the phenomenon of bioluminescence or biologically produce light when disturbed.
Check tweets of users who shared the beautiful pictures of bioluminescence:
Bioluminescence observed in Chennai, ECR beach.. pic.twitter.com/dBPjNMrMLw

— Pramod Madhav (@madhavpramod1) August 19, 2019
Here is a video shared by a Twitter user:
Meanwhile #chennai beaches glowed in the dark this weekend https://t.co/gMadG7NBQZ #bioluminescence

— Ankit (@theStyleWallah) August 19, 2019
According to a report on the Hindu, while you may get awestruck by the beautiful sight, but their arrival may not be a piece of news for celebration. Noctiluca are known to be voracious predators and lead to disruption in the marine food chain. They excrete large amounts of ammonia, that may cause massive fish mortality.