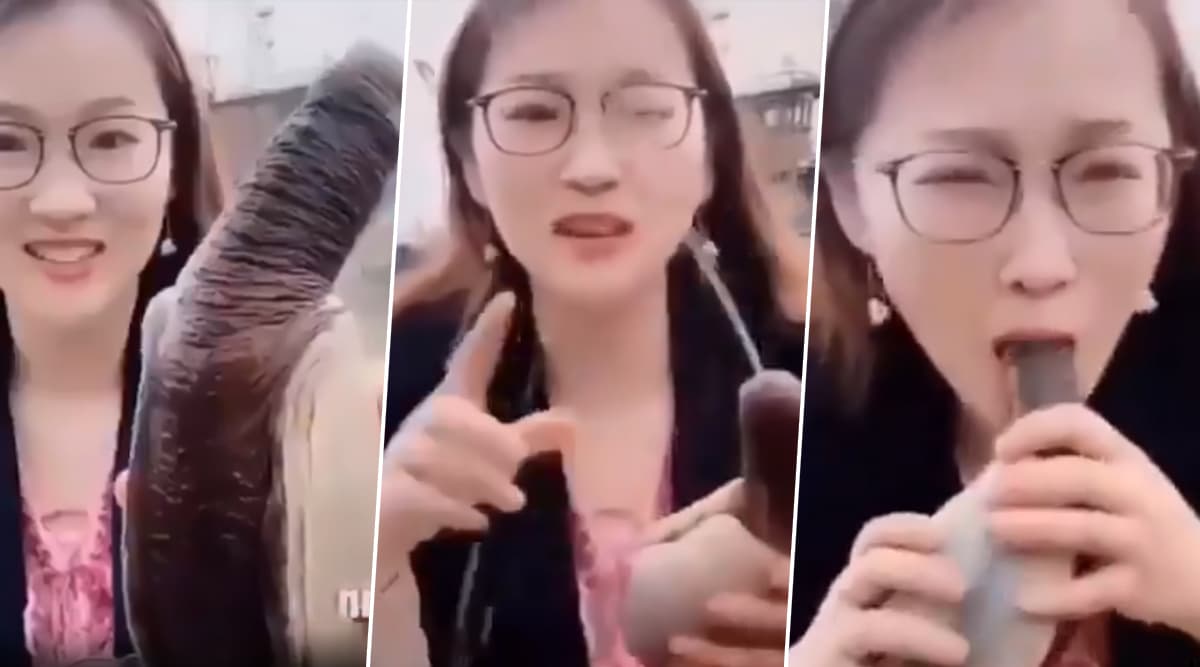 What on earth is that? You might exclaim, the moment you watch this gross video which has surfaced on Twitter. The video shows a girl eating something that totally looks, well like a penis! Internet is grossing out on the viral clip. Many reactions poured in on social media with people sharing their stunned expressions. While some are disgusted at sight, others were clever enough to figure out what was actually going on. It turns out that the girl was biting on a Pacific Geoduck. The sea creature is often misunderstood because of its appearance to the male genital organ. Chinese Blogger Attacked, Face Disfigured By Octopus While She Tried to Eat it Alive. 
The video starts with the girl, holding on the creature gently and introducing her meal to the Twitterverse. Not disgusted enough? Well, wait for the girl to lightly tap its head that causes a stream of water to spurt out! She puts it inside her mouth and bites of a big chunk. We don't know about its taste, but surely saw how a breathing penis looks like. And so did the Twitterati. The idea of a slippery shellfish going down your throat is in itself a vomit-inducing thought. The video triggered thousands of reactions online.
Watch Viral Video:
What the hell is she eating? pic.twitter.com/ugue1b0vv6

— jamie (@gnuman1979) October 23, 2019
Internet is Disgusted:
— Relax (@RelaxxDE) October 23, 2019
Surely!
this video will surely spoil the many romantic rendezvous scheduled for this night

— J'exagère à peine (@Jexagereapeine) October 23, 2019
Netizens Be Like:
Jfc, WHY do you do this to us? pic.twitter.com/2HY0wWgKQz

— Laura Butler (@mydogsammie) October 23, 2019
Some Had the Answer:
That is a geoduck, you can find them on beaches in the Pacific Northwest although today they're rare.

— John Ewing (@johnewing66) October 23, 2019
Well, You Don't Have To:
A Geo duck. 🤣😂🤣😂. @mikeroweworks went harvesting them in a #dirtyjobs episode if I remember correctly.

They are soooo gross. Even cooked. 🤣😂 I just can't.

— Mimi (@cammiemimi) October 23, 2019
Pacific geoduck is a species of very large, edible saltwater clam. It is a native to the coastal waters of western Canada and the northwest United States. Unlike other giant clams that sit atop the sand's surface, geoducks dig underneath the dirt. They use their dickish siphon to suck up the water and filter it out for its plankton. The fun fact about this creature is that it is the biggest burrowing clam in the world and is one of the largest living animals with an average life span of about 140 years. It is popular in China and people who have eaten it suggest its taste to be savoury and the texture as crunchy.