Getting engaged is one of the high-points of a relationship and it is indeed a happy moment for any couple. A bride-to-be who excitedly shared the news of her engagement on social media left people disgusted more than to be happy for her. Her boyfriend proposed her but the choice of his ring, made of his own hair got people grossed out completely. The woman's boyfriend proposed her with a ring that was made of his hair looped up. While it could be a memorable moment for the couple, viewers of the ring would like to forget what they saw. The picture of the ring even made it to a ring shaming group on Facebook and people there were also unimpressed. Man Puts a Ring on His Penis to Propose Girlfriend! Surprises Her During Oral Sex.
Picking out an engagement ring could be one of the most difficult choices to make. But this boy decided to make it unique, even if it meant bizarre. In her post, the girl wrote, "My boyfie is now my fiancé! He proposed with a ring made from a lock of his OWN HAIR. This is a placeholder, until my more intricately woven band is done." She posted pictures of her hand with the loop of hair around her ring finger. Engagement Ring Lost in Vagina! Proposal Gone Wrong as Kinder Egg with Ring Stuck Inside Woman's Privates.
Here's The Picture of Engagement Ring Made of Hair: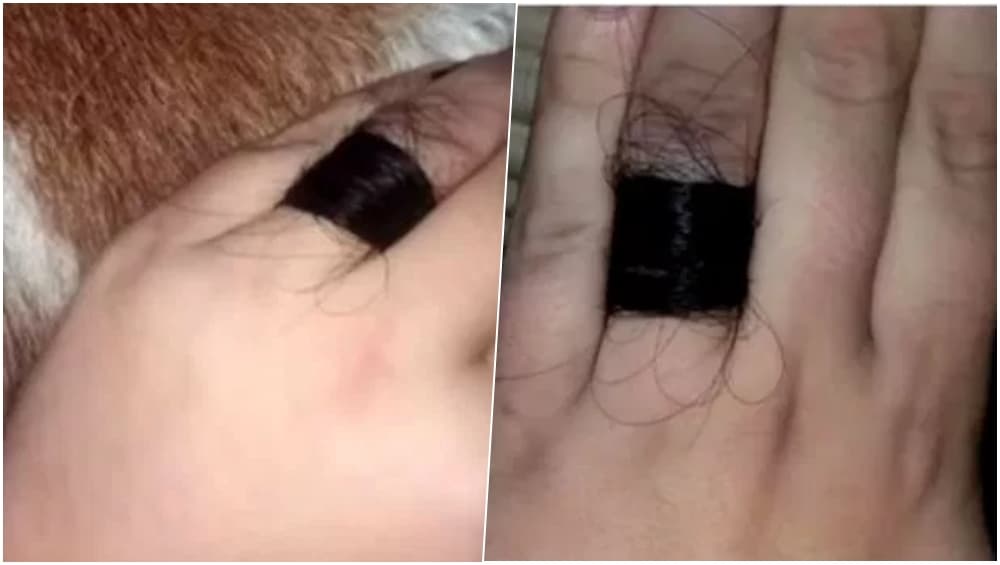 While the gesture may be of romance, people online were only repelled by the ring. It made its way on a ring shaming group with people leaving some funny comments. As per reports in The Sun, people wrote, "Did she pull his hair from the drain and just wrap it around her finger? Does he even know they are engaged." While other user questioned it was hair from which part of the body? Eww, I guess we are better off knowing anything more about this bizarre ring.
(The above story first appeared on LatestLY on May 14, 2019 12:47 PM IST. For more news and updates on politics, world, sports, entertainment and lifestyle, log on to our website latestly.com).