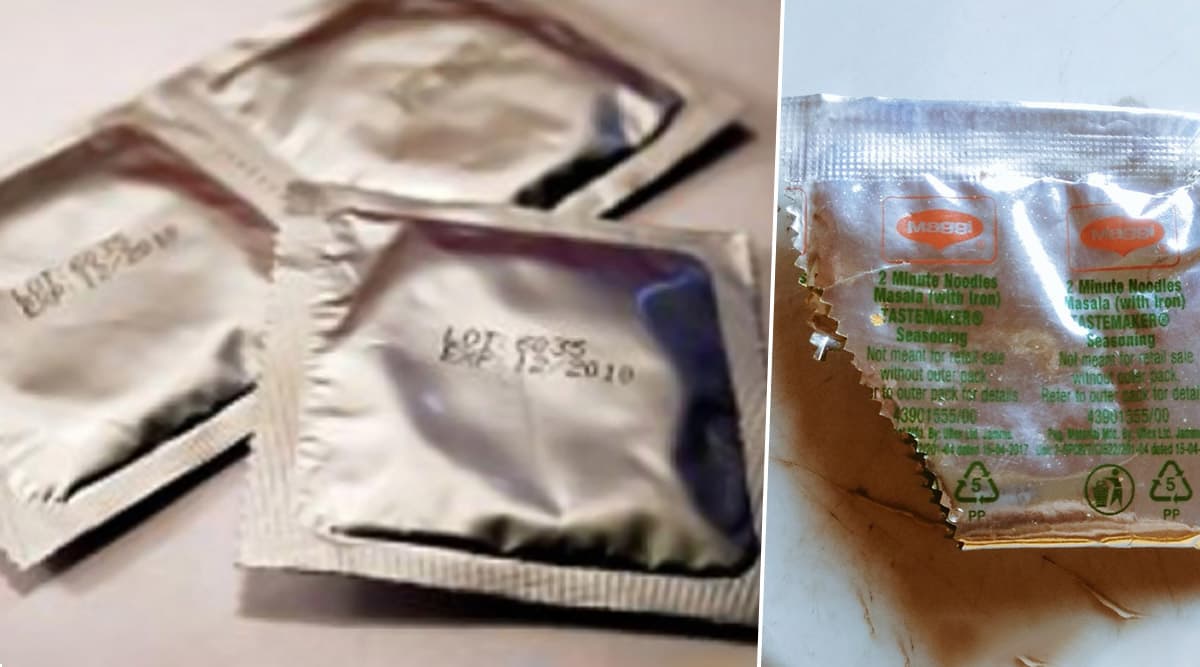 Are they packets of Maggi masala? You cannot be too innocent not to identify what contains in these packets. But it appears that Twitter user, @Saisailu97 thinks it otherwise, or at least she pretended. She tweeted, "One pack of maggi masala is never enough, they need to start giving us more." Did you get the pun? A major section of Twitter did not, and they started to take a jibe on her on the social media platform. And if you are one of those too, you are in for a treat here. Her sarcastic tweet has gone viral, receiving thousands of likes, retweets and funny responses. Maggi Sandals Anyone? Italian Luxury Brand is Making Heels That Look Like Noodles!
The image shows three packets of condoms that she sarcastically captioned Maggi masala packs. While a few were quick to get the pun, many responded to what they actually were. Again, some people in follow up tweets admitted that it took a while for them to process. But Twitterati surely had a field day as the photo of condom packets surfaced on their timeline. Oranges in Maggi Noodles? Picture of This Weird Food Combination is Wanting Netizens to Throw Up in Disgust!
Here's the Tweet:
One pack of maggi masala is never enough, they need to start giving us more 😩 https://t.co/6ysWWbwCZp

— festive sai 🎅🏽🎄 (@Saisailu97) December 23, 2019
Please Do!
Yooooooo 😭 pic.twitter.com/GkUHPMwkmP

— festive sai 🎅🏽🎄 (@Saisailu97) December 23, 2019
Processed!
Yo I'm mad this was a joke tweet and it took me a second to process

— MJ 🌙 (@nooriejamal) December 23, 2019
LOL:
Well this masala works like 97% of the time, claims Dr. ROSS Geller

— Umair Jibran (@UmairJibran7) December 23, 2019
Well, Many People Did!
How bad is it that I genuinely thought that the photos were of actual maggi masala LMAO

— Hendricks Henderson (@RahsAlGhul18) December 23, 2019
Oh Great!
I totally agree. I remember when I got extra masala packet in maggie packet, i literally felt thankful to god because this is the only best thing ever happened to me or anyone else.

— guriya chhatwal (@GuriyaChhatwal) December 23, 2019
We all know, only one packet of condom is never enough. The boxes which usually starts from a pack of three, go on, depending on your plans or whatsoever. So, the Twitter user has only shared her urge of wanting more and more contraceptives—that she sarcastically called, packets of Maggi. A pack of them can never be enough!
Social media is a great platform. You can never get bored of scrolling down to discover many surprising or hilarious elements. And thanks to such tweets and viral posts, we always remain captivated on any busy day!