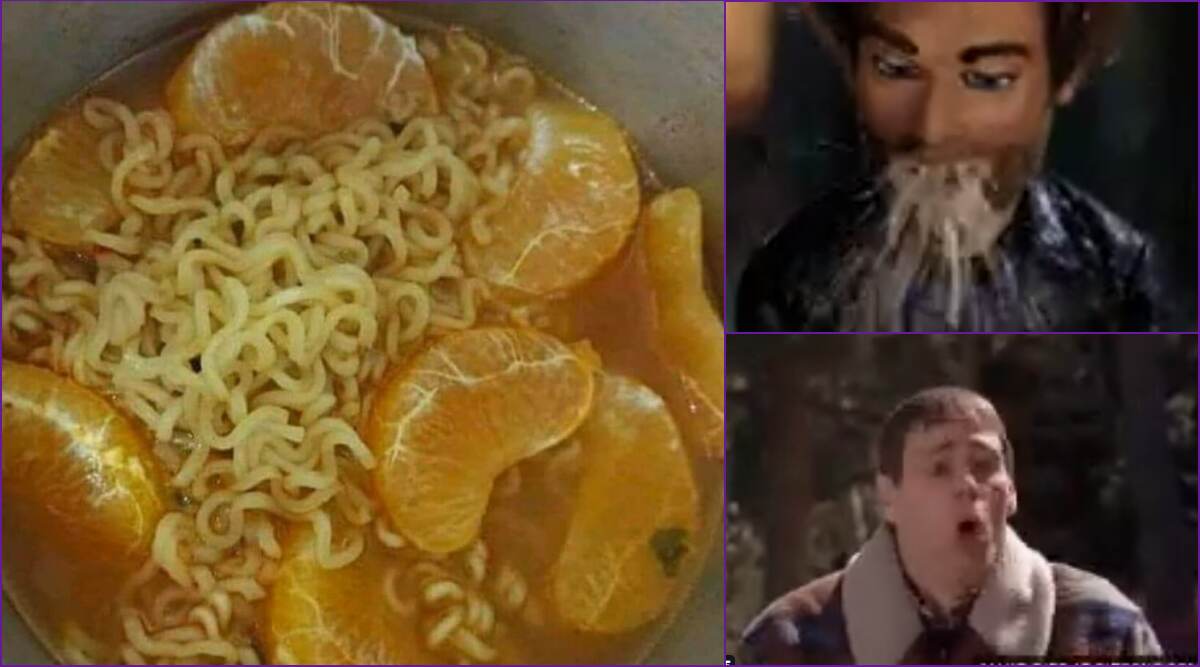 There seems to be some weird trend that has caught among the people, to try out the most weird food combinations. From the past few months, every few days there are pictures of extremely diverse foods being mixed together. So there was Kaju Katli with Ketchup to  Gulab Jamun with pav. Now to add to the list of such ridiculous food combinations is oranges in Maggi noodles! Why? We don't know. A Twitter user shared the picture of oranges in Maggi noodles which she spotted on someone's Instagram story. Netizens are disgusted and most of them just want to unsee this picture or either throw up!
A few months ago, a video of a woman making Maggi noodles in milk instead of water was shared on Twitter. It was a recipe video of rose-flavoured Maggi and when the clip came online Twitterati slammed it. Now there is someone who decided to add oranges in their Maggi. A picture was shared by Twitter user @potathoe69. She mentioned that she saw it on someone's Insta story. The picture of this weird combination is going viral and people just want to unsee it. After Kaju Katli - Ketchup Combo, Gulab Jamun Pizza and Kurkure Milkshake by Desi Twitter Are Out to Ruin Your Foodgasm.
Check Picture of Oranges in Maggi Noodles:
Just saw this on a friend's IG story bruh what are y'all smoking pic.twitter.com/v63FEneIgI

— PotatHOE (@potathoe69) December 11, 2019
Need an Eye Wash!
— kamalx (@eatchickenbro) December 11, 2019
Please Get the Unsee Lotion
— Your friendly neighborhood curly headed cutie (@Themessybungirl) December 11, 2019
Calling the FBI
— bing bong stan account (@penisfritter) December 11, 2019
Trying a Replica?
When a vegetarian try to make replica of Prawn noodle soup dish. 😂 pic.twitter.com/0yVBcz396t

— Dessie Aussie ♂️ (@uttampatel) December 12, 2019
Feeling Pukish?
thoroughly unappetising pic.twitter.com/bZtzszKAlk

— dharmesh (@dharmesh_101) December 11, 2019
After Effects of Too Much Vodka
Drank too much vodka maybe

— Kunal Rathod (@710_kunal) December 11, 2019
That's a Violation
— Whoa!! Ashwath (@PhotoKadaNair) December 11, 2019
Making things more worse was someone who posted a picture of an ice-cream with Maggi. The person was asked to get off the internet by fellow commentators on the thread.
Ice-Cream With Maggi
😋Ice cream noodles >>> pic.twitter.com/uszbISuqIT

— Archer (@ArcherMOF) December 11, 2019
Clearly, people were unimpressed with the combination and advised the person to get off the internet. For someone who absolutely loves eating the instant noodles, these pictures are a nightmare!