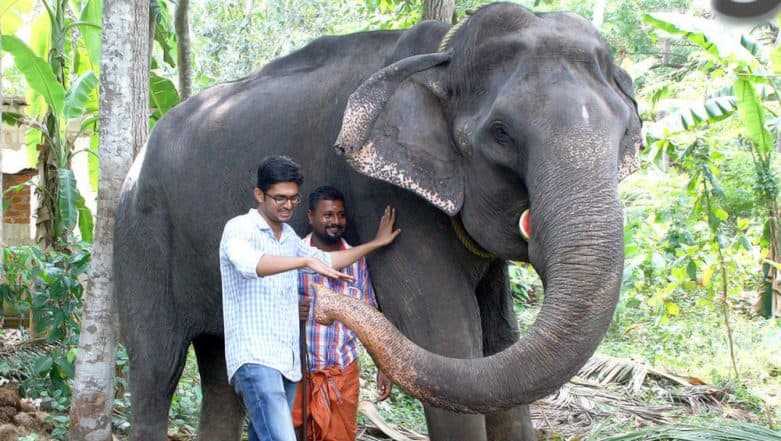 An elephant from Kerala named Granny Dakshayani believed to be the oldest elephant in captivity has passed away at the age of 88. The elephant had received a title of "Gaja Muthassi" meaning elephant granny and was a part of all temple rituals and processions for decades. She breathed her last on Tuesday, February 5. She used to be a part of all temple rituals at the Chengalloor Mahadeva Temple in the southern state of Kerala. Chhattisgarh: Villagers Mourn Crocodile 'Gangaram's' Death, Decide to Set up Memorial For Their Beloved Protector.
According to its vet, the elephant had stopped eating food and died. She was also having some trouble moving around and the keepers tried to feed her with fruits and vegetables. As her health wasn't keeping well, she had not taken a part in any of the public events for a few years. "And a couple of months back, we had even moved her to a better tethering place at an elephant farm in Thiruvananthapuram," T. Rajeev, Travancore Devaswom Board president was quoted to a news agency. 'Rowdy' Ranga, Karnataka's Most Loved Elephant, Dies After Being Hit by Bus.
The Travancore Devaswom Board claimed that Dakshayani was the oldest elephant in captivity. Although the current Guinness World Record holder for the oldest elephant in captivity is Lin Wang, aged 86. There have been enough talks about elephants in captivity. Conservationists have opposed to the idea of keeping them in captivity because of the conditions. According to the latest survey, India has more than 2,400 elephants in captivity.
Dakshayani was awarded the "Gaja Muthassi" honour under the Former Travancore Board president Prayar Goplakrishnan. He defended the decision to keep her in captivity and was quoted to the agency, "Due to various practical constraints, we could not let her loose, but instead ensured that she had more than enough space to move around."