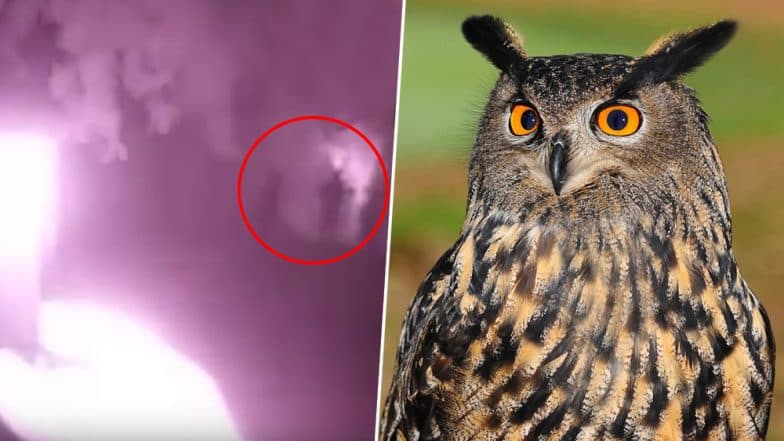 A 'half-man', 'half-owl' mythical creature was spotted in a graveyard in Cornwell, and it is making the internet go crazy. With so many "spooky" videos going viral now and then, it is so difficult to figure out which one is real and which one is not. However, this creature is said to have been resighted for the second time after 1976. Although, the 'half-man', 'half-owl' mythical creature was a part of 1920s folklore.  This video was made by ghosthunter, Mark Davies who claims that he caught the infamous character on camera.'Ghostly' Black Cat Vanishes Into Thin Air at Night; Surveillance Camera Captures Spooky Incident (Watch Video.)
The footage shows Mark and his friend can be seen wandering around a spooky graveyard with a particular gadget and torch. However, in one frame, you can slightly see a creature that looks like he has two horns. He claims that the 'half-man', 'half-owl' can be seen behind a gate. SCARY! Balloon Girl 'Walks' Down the Steps, Stops and Stares at the Camera (Watch Spooky Video).
Here's what the footage has written on it: "Da thymi nesse the Dhu" and the sentence when translated from Cornish and reads:  "It is good to draw nigh to the Lord". In the video, you'll see Mark holding a "spiritual detector" that he walks around with while he pans his camera around the graveyard. In the video he can be heard asking if "any creature lives here".
Watch Spooky Video of 'Half-Man', 'Half-Owl':
This is not the first time a spooky video is going viral that has no answers to it. Recently, footage showing a cat disappear in thin air is suddenly was sending across chills on the internet. The surveillance cameras set up outside a home in Austin, Texas captured a black cat disappearing into the shadows back in January.