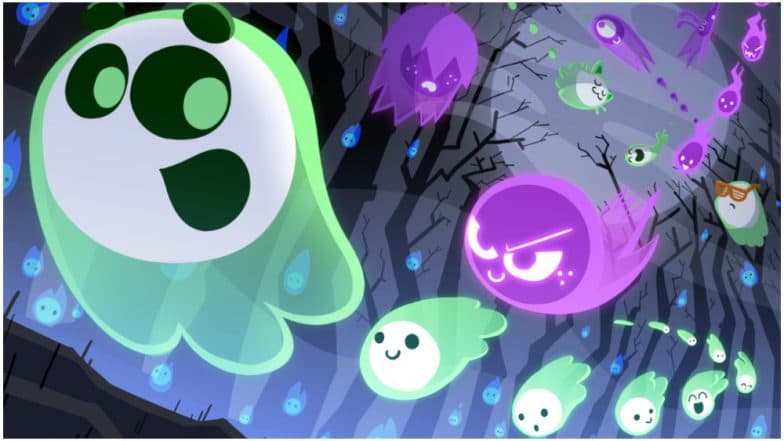 Google is celebrating Halloween with an interactive doodle for their US users. The festival is an annual traditional festival observed in the United States on October 31. The Halloween Google doodle has ghosts roaming around the world playing their own version of Trick-or-Treat: The Great Ghoul Duel! In this doodle, ghosts have teamed together competing against each other to see who can collect the most number of wandering spirit flames before the moon fades away.
Players can join one of the two different groups and form teams of two to play the game. The game has several spooky maps, and players have to collect as many spirit flames in just two minutes and return to their home base. Whichever team collects the most spirit flames wins, but the game comes with a twist! Your opponent can intercept spirits from one another as players get their flames. Scary Happy Halloween 2018 Wishes: Spooky WhatsApp Messages, GIF Images, Facebook Status and Sayings to Send Witty & Funny Greetings.
Here is how to play the Halloween Google doodle game:
Like any other video game, this one too comes with bonus points and special powers. But this comes with a fresh take, in a first, players can choose to host a game with seven friends and family using a custom invitation link. You can also play with random players across countries. What are you waiting for? Play The Great Ghoul Duel and let us know how you liked it in the comments section below. May you have some amazing #SquadGhouls and play the spookiest Halloween Google Doodle game ever! Halloween 2018: Venom, Pennywise, The Nun and Other Trendy Makeup and Costume Ideas For This Year's Spookfest.
Halloween has roots in the pagan traditions when Samhain was observed to mark the end of summer. It eventually became a part of European traditions with various stories and myths attached to it. Today, the United States celebrate it as a national holiday with costume parties, events for children, street parades among other festivities.