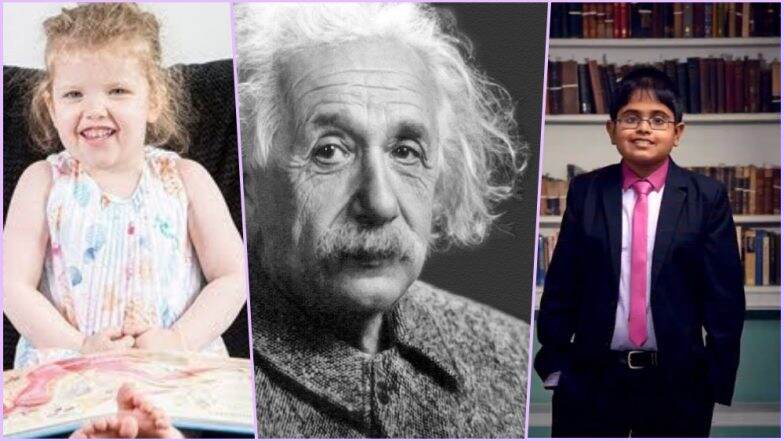 Einstein was born in Germany on this day in 1879, and 140 years later, he is still seen as one of the most brilliant minds in science. The theoretical physicist and Nobel laureate made one of the most significant contributions to the world of science notable the theory of relativity and MC-something-or-other. There is a long list of children headlined in various countries for reportedly having higher IQs than Einstein. Although no one knows Einstein's IQ as he was as was never tested, it is assumed that he would have an IQ score of 160+, which is estimated to equate with genius level. Hence, on the celebration of history's brightest minds, here we have listed down kids who have scored higher than Mr Relativity. Know 8 Facts About the Scientist Who Gave the 'World's Most Famous Equation'. 
1. Fabiola Mann
IQ Score: 162
In 2012, Indian-origin, Fabiola Mann was all over the headlines for scoring 162 on the IQ society's test—two points more than scientific greats Einstein and Stephen Hawking. Fabiola who was born in Goa, India, but currently lives in the United Kingdom enjoys the classic genius hobby of playing chess, the piano and guitar and can sing as well.
2. Rahul Doshi
IQ Score: 162
Rahul Doshi, Indian-origin in Britain became the talk of the town in 2017 after he answered all 14 questions correctly in the first round of a British TV show called Child Genius. A score of 162, qualified Rahul to be a member of Mensa club, the largest and oldest IQ society on the planet. His success in the first round of the show had made him an instant social media hit that time. Albert Einstein's Letters on Physics And Appreciation Sold at Jerusalem Auction For USD 100000. 
3. Arnav Sharma
IQ Score: 162
Arnav was always confident about his intellect when he tested himself in 2017; he was surprised too. His IQ is a whole two points higher than the estimated IQs of German-born theoretical physicist Einstein and celebrated cosmologist Hawking. At just 11-year-old, Arnav could name all the capitals of the world. Besides, he reported participating in the infamous Mensa test without any preparation.
4. Ophelia Morgan Dew
IQ Score: 171
Ophelia Morgan Dew's first words were spoken when she was of 8 months, and it was with two syllables, "Hiya." But at age three in 2018, she had sent shock waves across the world by drawing an IQ score of a whopping 171, which is 11 points more than the legendary physicists Einstein and Hawking. Multiple British publications also reported that Ophelia could recall incidents which happened even before she was a year old. How many of you remember being a baby? I know I do not! 11 Powerful Quotes by Albert Einstein on Love, Humanity and Society on his Birthday. 
5. Nishi Uggalle
IQ Score: 162
Nishi Uggalle is the newest crowned champion of Channel 4's Child Genius Show with an IQ score of 162. Not just the number, but the Sri Lankan child's inspiring acceptance speech won the hearts of everyone who watched the programme. Nishi hopes to be a theoretical physicist at Cambridge like her idol Stephen Hawking.
Watch Video of 5 Kids With Higher IQ Than Einstein
Above are the few out of many, who hails the title of having more IQ than Einstein. But we also cannot ignore the fact like we mentioned earlier, that the scient giant was never tested. Besides, the numbers are purely normative—the test taker's performance is scored against the average of the same age group which is based on a series of tests that usually concentrate on pattern recognition, logic and problem-solving ability. And we only hope our future generation will be able to make valuable contributions in the field of science following in the path of Albert Einstein.