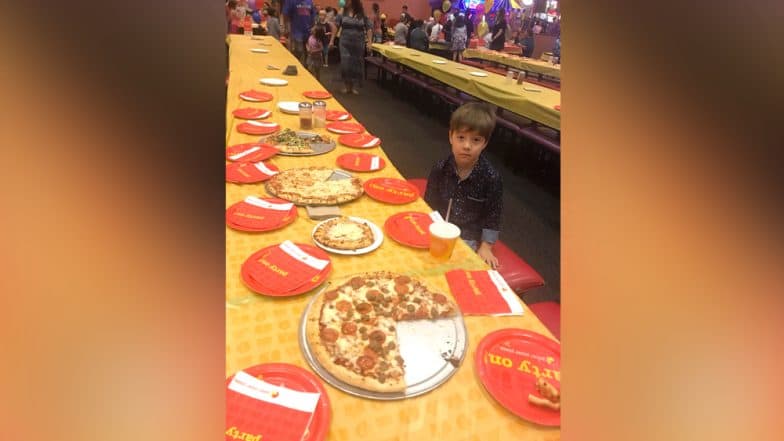 Birthdays are always special. It involves month-long preparations only to make the day a memorable one. From cutting the cake in the midnight, to surprises, to gifts, your near one's presence, every bit of it plays a massive role to mark the day you were born. But there is something absolutely heart-breaking if things don't go as smooth as we expect on our birthday. And it is no less than a nightmare, if no one turns up to the birthday party. Imagine, the youngest member of your family goes through this very scenario! Disheartening right? Sadly, this is what happened to a six-year-old boy who was left alone and disappointed after no one turned up to his first-ever birthday bash. His mom shared the distressing photo on social media, which soon went viral, but thankfully for good.
For children, apart from the delicious cake and endless presents, there is one aspect they tend to remember—they had fun with their friends. Certainly, it did not happen for this little boy, Teddy Bollinger. According to KVOA, Teddy's mom, Sil Mazzini threw her son a birthday party at Peper Piper Pizza restaurant in Tucson, Arizona. For Teddy, whose real birthday was on October 3, a pizza party with his friends was all he wanted for his 6th birthday. Firefighters Turns Pizza Delivery Boys! After Saving the Biker, New York Firemen Completes the Order. 
Teddy's photo, waiting all alone on a long, empty table laid with party-themed plates, napkins and cups.
A Tucson 6-year-old invited 32 of his classmates to a pizza party for his birthday over the weekend... and no one showed up: https://t.co/5KGkBT9gD3 #abc15 pic.twitter.com/cxXf25W2xJ

— ABC15 Arizona (@abc15) October 22, 2018
Mazzini asked her six-year-old son, how he wanted to celebrate his birthday this year—a trip to Legoland and a visit to Disneyland or having a party with his class. Reportedly, Teddy was adamant about having a pizza party with his friends. Like any ideal parents, Mazzini agreed for it. She even handed out written invitations to her son's teacher two weeks before the party. Teddy's classmates confirmed their attendance at the Pizza party. Only two people informed that they could not attend and the rest of the party-goers were no-shows.
After the photo went viral, people, organisations and companies around wished the little one a happy birthday. While some made sure to make Teddy's 6th birthday special. Among those were Phoenix Suns, American professional basketball team, who invited the little one to watch the game against the Los Angeles Lakers.
Phoenix Suns invite Teddy to celebrate his birthday.
How about we celebrate with thousands at our place! Tickets to Wednesday's #SunsVSLakers game are all yours Teddy! Talk soon! https://t.co/YL3zjDX9JW

— Phoenix Suns (@Suns) October 22, 2018
The professional soccer team, Phoenix Rising too invited Teddy to their playoff game on October 26. Also Ice hockey team, Arizona Coyotes, are reportedly planning to organise a pizza party for Teddy during their ice hockey game on October 27. The team is even thinking of a specific area and time for witnesses to drop off unwrapped gifts for the kid. Both Teddy and his mom have been grateful for the outpour of support they received.
Teddy says, "Thank you all for the birthday wishes," in a Facebook video.
All's well that ends well! The love that the six-year-old got on the internet was unexpectedly high for the family. However, Mazzini revealed to Daily Mail, her son will not get a seventh birthday party and will instead be taken to some other place for his birthday trip. But we are just happy that Teddy's sixth birthday ended well. Lot's of love Teddy!