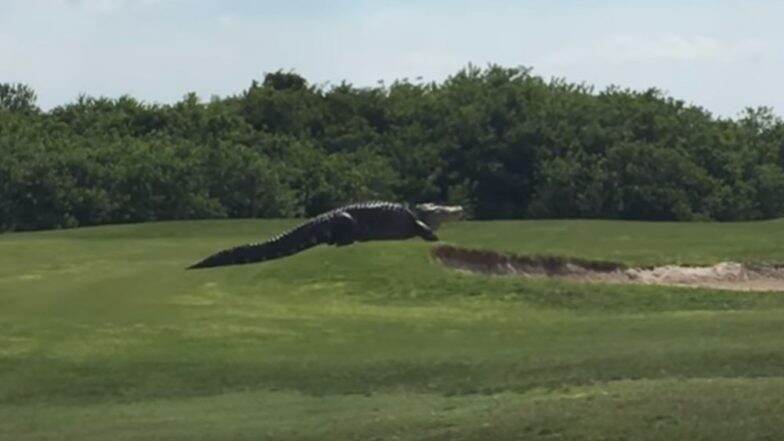 What will you do if you see a huge alligator stomping towards you? Run for your life right? Something similar happened recently when a 12-foot-long alligator made a return appearance in Florida last week. Fondly called "Chubbs" this alligator had also made an appearance in past. This time he was stomping through the Buffalo Creek Golf course, Palmetto. A video of this incident is doing the rounds on the internet and is freaking everyone out. Livingston, Texas Mayor Kills 12-Foot Alligator Suspected of Eating Her Horse (See Pictures).
The alligator is bigger than normal and looks monstrous and fierce. Stories doing the round say, 'Chubbs is back.' The alligator had made an appearance in the year 2016 and had freaked the tourists out even that time. The size of this alligator makes all the difference and even otherwise an alligator is said to be a huge animal that is usually ferocious. Take a look at the video that will scare the hell out of you. Viral Video of Alligator Eating Girl is Fake; Original Clip is Preview's Ad From 2013.
People have commented saying, 'The Gator walks like he owns the place......oh wait!', The other comment said, 'Omg, dude... you could not pay me to get 1 step closer to that beast! Dang!' Somebody playfully commented, 'This is the first time I have ever found golf interesting!' The size of the alligator is enough to be compared to a dinosaur just like somebody rightly commented saying, 'That thing is almost a dinosaur.' What would you do if you saw something like this around you? Let us know in the comments section below.