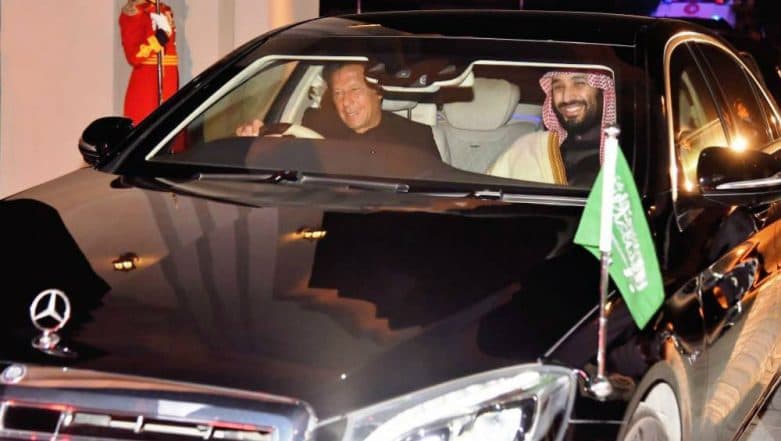 Islamabad, February 18: In a break from protocol, Prime Minister Khan personally drove the Saudi crown prince to PM House, where a welcome ceremony was held in his honour. A picture of Pakistan Prime Minister Imran Khan driving Saudi crown prince Mohammad Bin Salman has gone viral on Twitter. The picture shows Imran Khan driving the Saudi crown prince in a black mercedes. However, the image has also inspired a number of memes and comments from Twitter users. Twitterati pointed out how the cash strapped Pakistan is doing all it can to woo the Saudi royalty and how Imran Khan must be the most expensive driver in the world. Cash-strapped Pakistan Rolls out Red Carpet for Saudi Crown Prince Mohammad bin Salman.
Users said that the Pakistan Prime Minister was so desperate that he even turned into a driver just to please Mohammad Bin Salman. Pulwama Attacks Fallout: After CCI Covers Portrait of Imran Khan, Rajasthan Cricket Association Removes Pictures of Pakistani Cricketers.
Check a Few Tweets Below:
Beggar nation PM @ImranKhanPTI driving potential funder of Jihad. Small man back to his reality. https://t.co/8CF91Bam4V

— deepak joshi (@Joshideepak3) February 18, 2019
One Comment Said That the Saudi Crown Prince's Day was Made Thanks to His Driver:
- Imran Khan after driving the Saudi Prince himself

"Bhai Jan 5 Star Day daina" 💥

— Bazil Khan (@GareebAdmi656) February 18, 2019
Imran Khan: the Highest Paid Chauffeur in the World:
Mr Imran Khan has become the highest paid chauffeur in the world. Rs 20 billion US dollars for driving MBS--Mullah of the Business Society. https://t.co/emaGExLDjK

— Mukhtar Lone????? (@Mukhtarlone6) February 18, 2019
Some even wondered if Imran Khan has the driving license and received his salary for driving:
Car driving k 5 star or salary mile ki nhi😂😂😂😂

— छोरा हिंदू का 🇮🇳🚩 (@Trueindian8459) February 18, 2019
From Islamabad, Prince Salman, who is also Saudi Arabia's defence minister, will arrive in India on February 19 on his first official visit. Counter-terrorism and energy security are expected to top the agenda for discussions during the two-day trip.
Saudi Arabia on Friday said it stood with India's fight against terrorism and extremism and denounced as "cowardly" the attack carried out by Pakistan-based Jaish-e-Mohammed (JeM) terror group in Jammu and Kashmir that killed 40 CRPF soldiers.