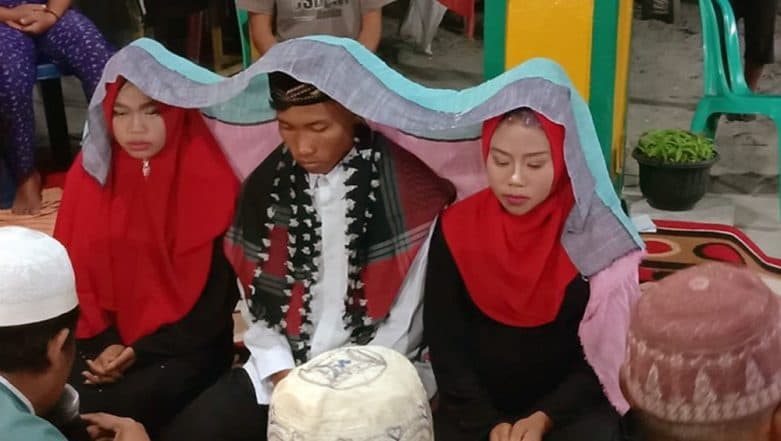 An Indonesian man married both his girlfriends at the same time because he did not want to "hurt" them. The unusual wedding ceremony quickly gained netizens' attention as the pictures and videos of the groom, and his two brides surfaced online. Although polygamy is not new in the Indonesian culture, the man's choice to marry his lovers at the same ceremony is what stirred the attention. In the viral video, the groom at first can be seen struggling to vow accurately. He got it right only for the second time. Indonesian Man Catches Cheating Girlfriend, Announces Breakup With Her on Ad Billboard. 
Reported first by Vice Indonesia, the unidentified man was quoted saying, "My heart couldn't stand to see them hurt. So I decided to marry them both." The pictures and video going viral, show both the girls sitting on each side of him. It has further been reported that both the women get along well and have no problem in sharing the rest of their lives, together. The man even had paid a dowry to both the girls as part of the Indonesian tradition. The new groom gave his wives a dowry of Rp10,000 (Rs 50 approx.) shared between the two.
See Pics & Viral Video:
As mentioned earlier, polygamy is not new to Asian countries. Muslim men are allowed to have more than one spouse according to the Quran, as long as he can provide for each. And as per Indonesian culture, a man can marry more than one woman if he has the approval of his first wife. This is why, the man's wedding with both his girlfriends at the same ceremony gained international attention. The unusual wedding reportedly took place in the village of Airtarap, Kalimantan.