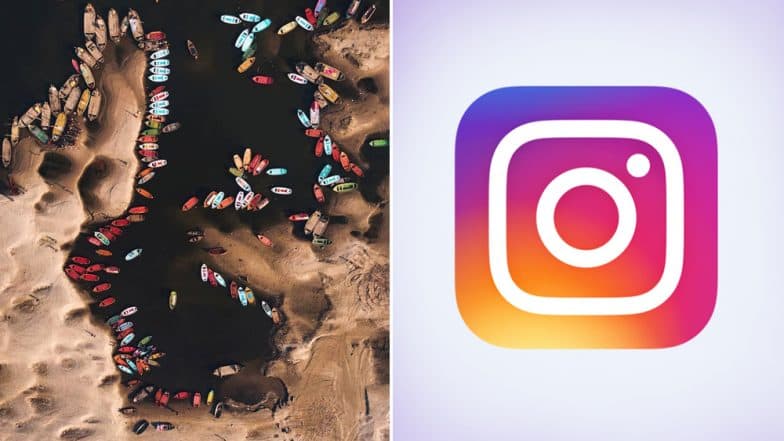 The Kumbh Mela 2019 is ongoing at Prayagraj and the vibe of the place is wonderfully captured in pictures. Several pictures from the mass Hindu pilgrimage have made their way on the internet. The Kumbh Mela sees a mass of pilgrims and tourists coming together to take a dip in the holy waters of the sangam. The traditional belief is that taking a dip into these waters will release a person from their past sins. Those who visit the Kumbh, make it a point to share their pictures online. Photo-sharing application Instagram too couldn't miss the beauty of this place and one such stunning photo captured by photographer Nischay Jain has been shared by their official account. Kumbh Mela 2019 Pictures From Space: ISRO Releases Pictures of Prayagraj Taken Through Satellite Cartosat2.
The picture is a drone shot taken by Jain and shows a colourful display of boats in the rivers. All bright coloured boats sticking to each other on just the borders of the land mass make up for a beautiful picture. Instagram every week has a theme to it and lakhs of photographers share their interpretation of the theme. Instagram then selects the best ones and shares it on their official account. This week's theme was Wanderlust and the photo from Prayagraj by Nischay Jain does justice to the idea. As they mention it in the caption, "Indian photographer Nishchay Jain (@meinbhiphotographer) used a drone to capture this image of river boats in the city of Prayagraj, where rivers and land – people and nature, color and calmness — come together. #WHPwanderlust.
Check Out Instagram's Post Featuring a Picture From Kumbh Mela 2019
Looks so pleasing right? Contrasting from the idea of crowd everywhere, this picture really gives a calm. The colours, the patterns of not just the boats but also on the land looks so well-placed yet contrasting. The picture really speaks a lot of words and manages to catch the theme of wanderlust.