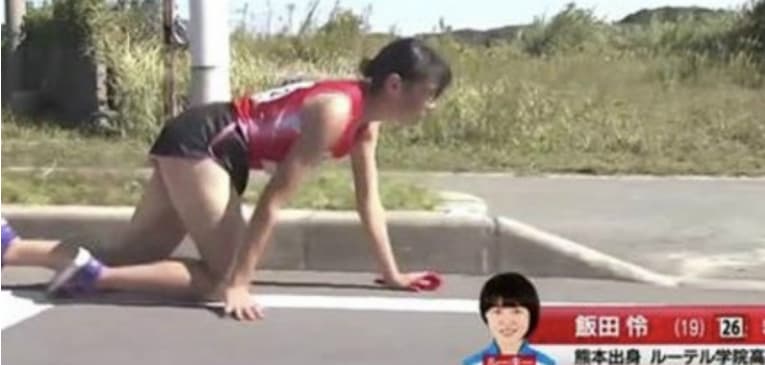 Rei Iida, a Japanese athlete is gaining praises on social media for crawling on the running track after she injured her leg. The 19-year-old had finished most of her 2.2-mile (approx 3.5km) street race in Fukuoka Prefecture when the incident happened. Video of the Marathon that is doing rounds on social media shows Iida falling on the race track and fracturing her right leg. With no way left to reach her partner to had over the relay slash as she crawled on her knees with the help of her hands.
After handing over the slash, the race organisers helped her get on her legs. Also, the organisers were criticised for not intervening when she fell. Reported when a race judge approached her, she had asked: "how many meters are left until my goal?" Nike Signs Justin Gallegos, First Runner With Cerebral Palsy; His Reaction Will Bring a Lump in Your Throat (Watch Video)
According to reports, Iida crawled for between 600 and 1,000 feet. And when the manager of her team, Hisakazu Hirose heard that she fractured her leg, he withdrew the team from the race. However, this message was not communicated to Iida when kept crawling.
Watch the video of Rei Iida finishing the race crawling on her knees:
Iida was later taken to the hospital for treating the fracture. According to local reports, she will take three to four months to recover. A spectator at the event told the Asahi newspaper, "She has a strong sense of responsibility. I admire her and want to applaud her." The head judge was quoted as saying, "I struggled to decide whether I should stop her, but I felt she could do it as she was almost at her goal." Iida later apologised to the team manager for her performance.