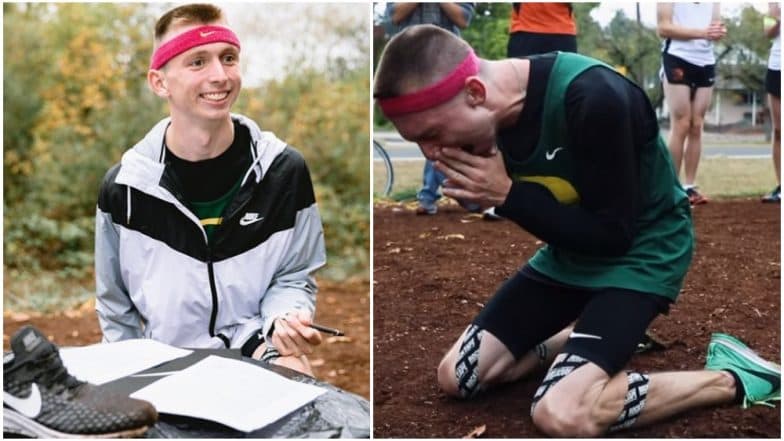 Runner Justin Gallegos became the first professional athlete with cerebral palsy to sign a contract with Nike. Justin who is a junior at Oregon and member of the school's running club, was told the news at the end of a practice recently. The video shows John Douglass, Nike's insight's director along a film crew surprising Justin with the contract. His reaction is just beyond words and can move you to tears! He breaks down as fellow runners and the team from Nike applauds the milestone in his life.
In April 2018, Gallegos ran the Eugene Half Marathon in 2:03.49 and now his dream is to run a half-marathon in less than two hours. He completed his second half marathon in September. After signing the contract, Justin took on Instagram saying that he still can't believe he's representing "the swoosh!" Nike Receives Backlash for Featuring Colin Kaepernick in New Ad; #JustBurnIt and #BoycottNike Trends on Social Media.
Watch the video here:
In a social media post, he thanked everyone for the love and support they showered on him in the past seven years of his life.
Here is Justin's Instagram post:
According to Running Magazine, as a toddler, Gallegos used a walker in a preschool. He later started using physical therapy to help improve his stride. When Nike came to know about the athlete they Nike developed a running shoe for those with disabilities featuring a zippered heel.
The news was released on World Cerebral Palsy Day (October 6). Cerebral palsy is a neurological disorder that affects coordination and muscle movement of a person. Even basic chores or activities like holding a spoon or moving an object using hands becomes difficult.