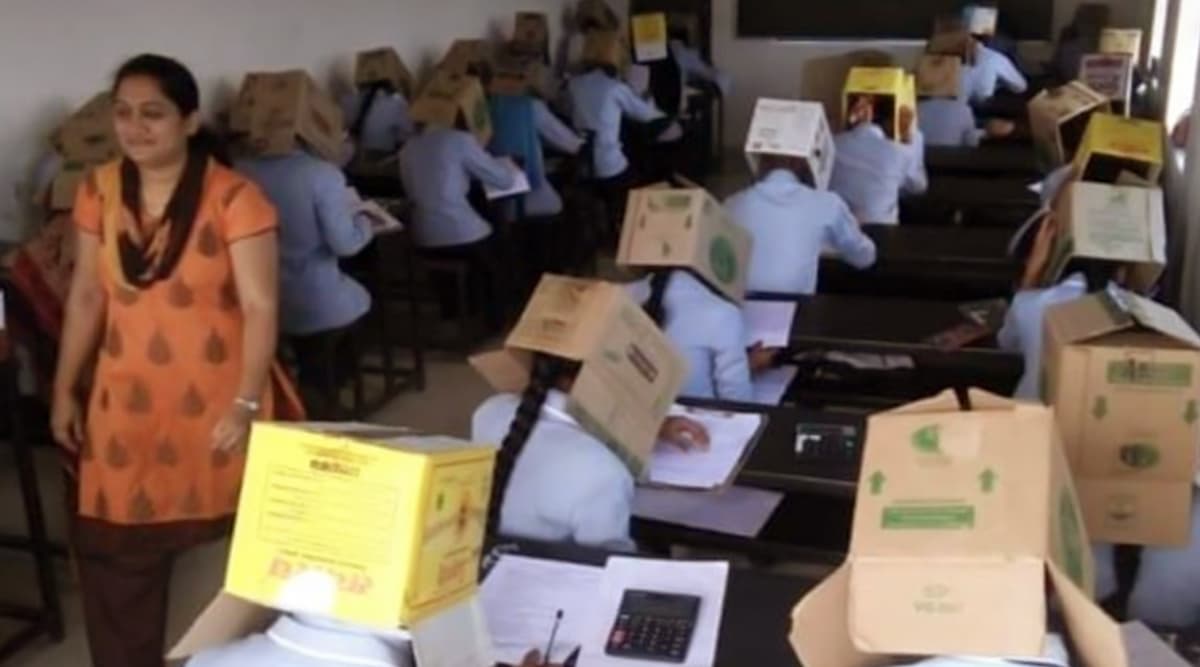 Cheating during the exam is a long-known global tradition among students. There cannot be any examination going well, if it's cheating menace stories does not make the headlines. Pun-intended! Every year, we see schools and colleges coming up with new methods to ensure that their students never cheat in exams. In one such bid comes a pre-university college in Karnataka has gone viral for its "out of the box" solution. The students were made to wear cardboard boxes and write their exams. We do not know about strictness, but the sight to see the students wearing the boxes is giving a laugh out loud moment to Twitter. People online have come up with hilarious jokes and memes, and the reactions are going crazy viral. Karnataka College Makes Students Write Exam With Face Covered in Cardboard Boxes to Prevent Cheating, Notice Issued to College. 
It is Bhagat Pre-University College in Haveri which has introduced this measure. The images of the exam hall room show students sitting in line, wearing those boxes and appearing to write their examinations in silence. It is undoubtedly hilarious to see all of the students to wear it while taking the exams.
View Pics:
Karnataka: Students were made to wear cardboard boxes during an exam at Bhagat Pre-University College in Haveri, reportedly to stop them from cheating. (16.10.2019) pic.twitter.com/lPR5z0dsUs

— ANI (@ANI) October 18, 2019
Here Comes the Funny Memes:
students to each other pic.twitter.com/qLxD9fj0dk

— Rahul 🇮🇳🥳🥳🌈 (@BeingTrickyy) October 18, 2019
Every Student Today:
— Sarcasm™ (@SarcasticRofl) October 18, 2019
Reservation Quotas Everywhere:
Yahan bhi reservation🤔🤔 pic.twitter.com/QmMItjFURX

— Kaju Katli (@MonkNxtDoor) October 18, 2019
Poor Students:
Kids

Adults

Legends pic.twitter.com/wJGkR8oaHe

— IRONY MAN (@karanku100) October 18, 2019
If Only They Knew!
Meanwhile, Back Benchers : pic.twitter.com/TQ1jdR7v7q

— Kaju Katli (@MonkNxtDoor) October 18, 2019
This is not the first time that this bizarre solution has gone viral. One university in Thailand demanded each of its students in the past to wear cardboard helmet to the exam. This peculiar out of the box solution would guarantee the students to not eyeing their neighbour's answers and set their sight only on their papers. We only hope that the idea proves to be effective and less discomforting to the students. Study hard, kids!