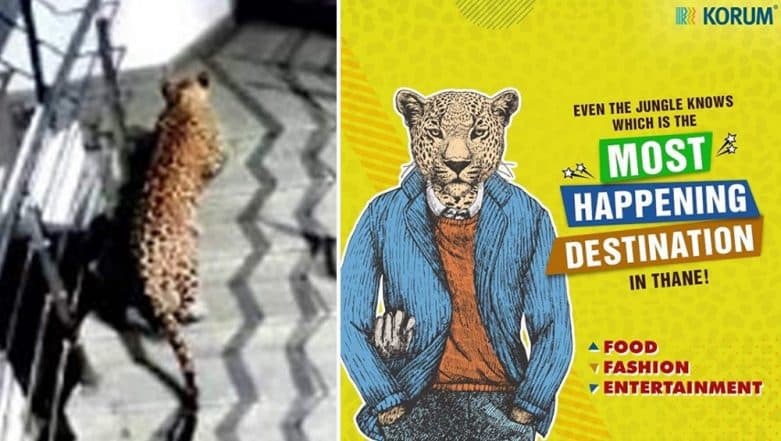 Thane's Korum Mall is one of the famous hangout places in the city. But recently it was in news for some different reason. A leopard had entered the premises of the mall during the early hours of February 20. The footage was captured on CCTV and it caused great panic in the nearby residential complexes. The leopard then headed to a hotel called Satkar Residency from where it was rescued. Fortunately, the leopard caused no harm but the incident had shocked the city dwellers. Now making full use of the same, the mall has advertised themselves as the most happening place in Thane. Using a leopard caricature, Korum Mall's latest advertisement reads, 'Even the jungle knows which is the most happening place in Thane.' This latest ad campaign is going viral for creativity. Leopard Spotted Walking in Thane's Korum Mall.
Leopard spotting in Thane is not too new. With the Sanjay Gandhi National Park forest area on its side, there have frequent cases of leopard spotting in the city. But when a leopard was seen in the Korum Mall, it sure created a panic. Although it was in the wee hours of the morning, a mall is a place which is constantly brimming with people. It is indeed dangerous for a wild animal to stray so far. Even the Satkar Residency hotel where the leopard was trapped and caught later, is one of the most famous hotels in the city. The news of a leopard being spotted here was all over social media and news channels. The mall seems to have found it as an opportunity to use it for marketing themselves. Durex Condoms Support Same-Sex Relationship Using Popular Bollywood Movie Scenes in Their New Promotions (View Pics).
Check Out Korum Mall's Post After the Leopard Sighting Here
Funny how they have managed to use it to their benefit. And people too are loving the new poster. Since there was no harm to anyone it looks like a good marketing gimmick. Although the thought of coming across a leopard while you are out there shopping or watching a movie is indeed scary. But well, Korum Mall surely has found one reason to attract more people to them. Or are they inviting animals too?