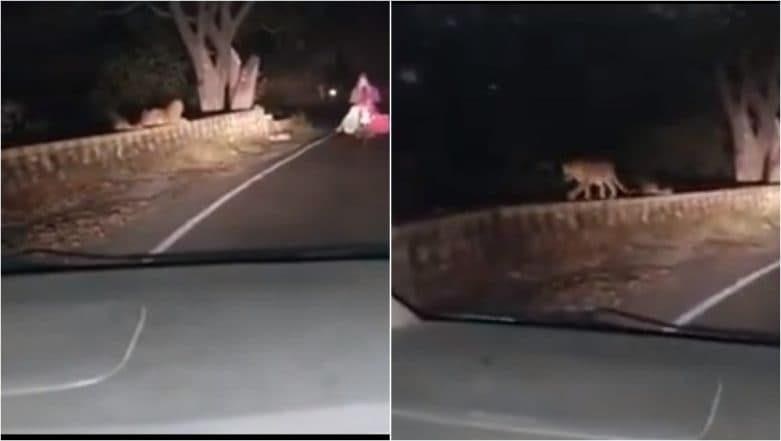 A video going viral on social media shows a leopard sitting on a roadside safety block as vehicles pass by. The animal sits beneath a tree like it's a part of its daily routine watching the traffic on the road. A YouTube video claims the animal was spotted in Khuldabad Ghat, near Aurangabad district in Maharashtra.
As the video goes viral on social media, something that can be noted is the reaction of the men capturing the men. Voices of men exclaiming on seeing the animal can be heard. When one of them suggests taking the vehicle a little further to have a closer look at the animal, another strictly rejects. Snow Leopard Shot Dead After Escaping Dudley Zoo Enclosure 'In the Interest of Public Safety'.
However, they move ahead, but stops after intervention from another man who wants the leopard to be let alone. Also, the leopard does not seem to be bothered by the headlights flashing right at it. It reminds of the times how animals and humans coexisted; can this be a rare example of living beings existing in harmony today?
Watch the video below:
But, gone are the times when we lived and let other beings live. The recent killing of tigress Avni, allegedly a man-eater had led to outrage among activists and animal lovers. While earlier it was said that the accused shot the animal for his safety, post-mortem report of the animal proved that the feline was shot while it was "facing away" from the shooter.
Khuldabad is a small town located in the Aurangabad district of Maharashtra. It is located 13 km away from the main Aurangabad city. However, we at LatestLY couldn't verify the authenticity of the video or the place it claims to have spotted the leopard.