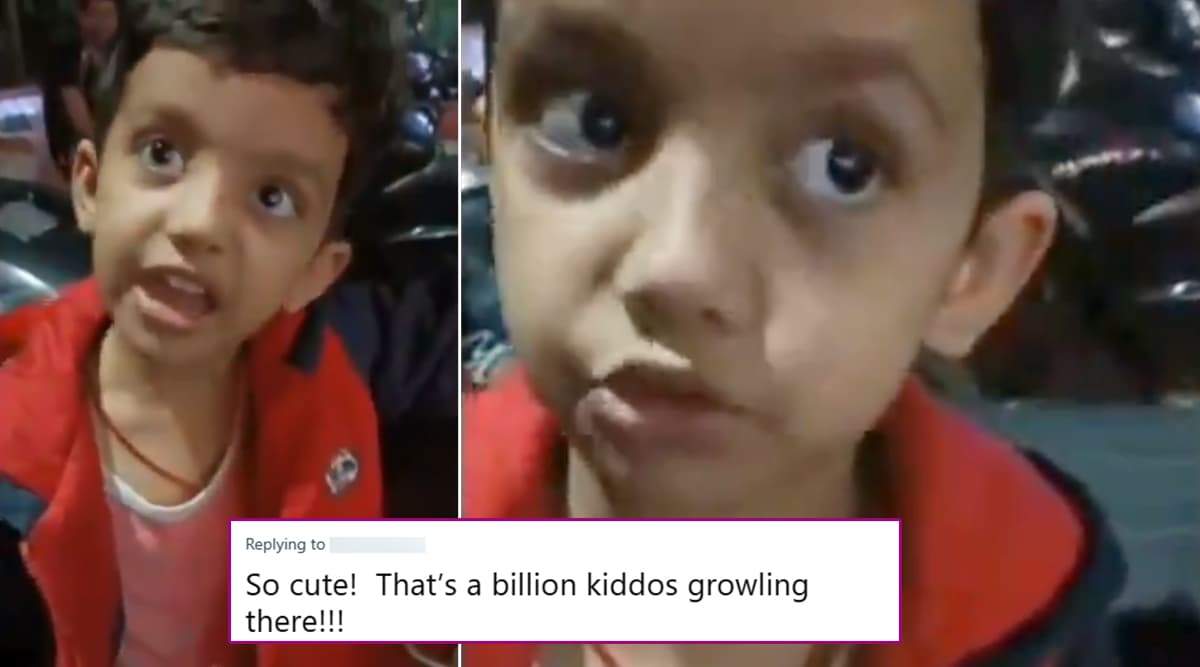 Most of us who are adulting will remember the good old school days with fondness. But for the little ones who are still struggling with school life, it is still a pain. A video of a little girl complaining about having to go to school every day is going viral on social media. She cribs about having to wake up early to go to school. She also says that if she meets the person who started schools, she would splash water and iron him! The video is indeed adorable and will take you back to your younger days. But the funniest part is when she says "Modi Ko Ek Baar Harana Hi Padega" (Modi should be made to lose once). People are too amused by the way she has blamed PM Modi in the end. Baby Talking in Gibberish Complaining About His Mom Leaving For Work Without Giving Him Goodbye Kiss is Hilarious; Video Goes Viral.
The video is most likely from Gujarat, as she speaks in Gujarati. And there's a Narendra Modi reference, but we are not too sure.  Getting up early to go to school was a struggle for most of us. Like the little girl, most of us detested studying.  In a one-minute long rant, the girl complains so much that it is actually adorable and at one point, you'd totally get her! The video is going viral on Facebook and Twitter. Video of a Little Girl Dancing on 'O Saki Saki' Song Goes Viral, and The Internet is Divided.
Watch Video of Little Girl Complaining About Going to School:
The person who started schools in this world is in serious danger. This girl is searching for him 😂 pic.twitter.com/SuOZ4befp1

— Arun Bothra (@arunbothra) November 13, 2019
With over 28,000 views in just a few hours, the little one is quickly going viral. The video has got over 2000 likes and has close to 700 retweets. While people are loving the way she complains, some netizens have also pointed out how education has become stressful for most children today. Check how some of the netizens reacted.
So Cute and Relatable!
Very cute and smart girl.We were also thinking this in our school time.😃😃😃😃😅

— Sajeeta Tripathy (@TripathySajeeta) November 13, 2019
The Truth
Soo cute...but she speaks the truth. Education has become stress right from nursery😔

— Soumya (@Soumya51747008) November 13, 2019
One Speaking For Many
So cute! That's a billion kiddos growling there!!!

— 🙏🏻 Ravi Prabhakaran 🙏🏻 (@Ra_Po) November 13, 2019
That Last Line Though
Usko dhoke istri karegiiii😘😘😘

— Manjula P. (@Manju_75) November 13, 2019
And best thing is the last line ...Anything goes wrong that the line you should chant..Ha..Ha...

— ସ୍ଥିତପ୍ରଜ୍ଞ ଦେବଦତ୍ତ (@SthitaprajnaD) November 13, 2019
Reforming Kiddo
Baap ka, dada ka , parosi ka , hum sab ka bachpan ka badla legi ye bachi..😂😂😂😂

— Netra Singh 🇮🇳 (@netrakushwaha) November 13, 2019
The video takes us back to our childhood. With growing academic competitiveness, children are becoming increasingly stressed out. And we can almost feel the little girl's plight. This video speaks on behalf of many other kids out there who are struggling with the demands of academics. We hope, it reaches many parents who are not aware of what their children go through every day at school lest they pressurise them.