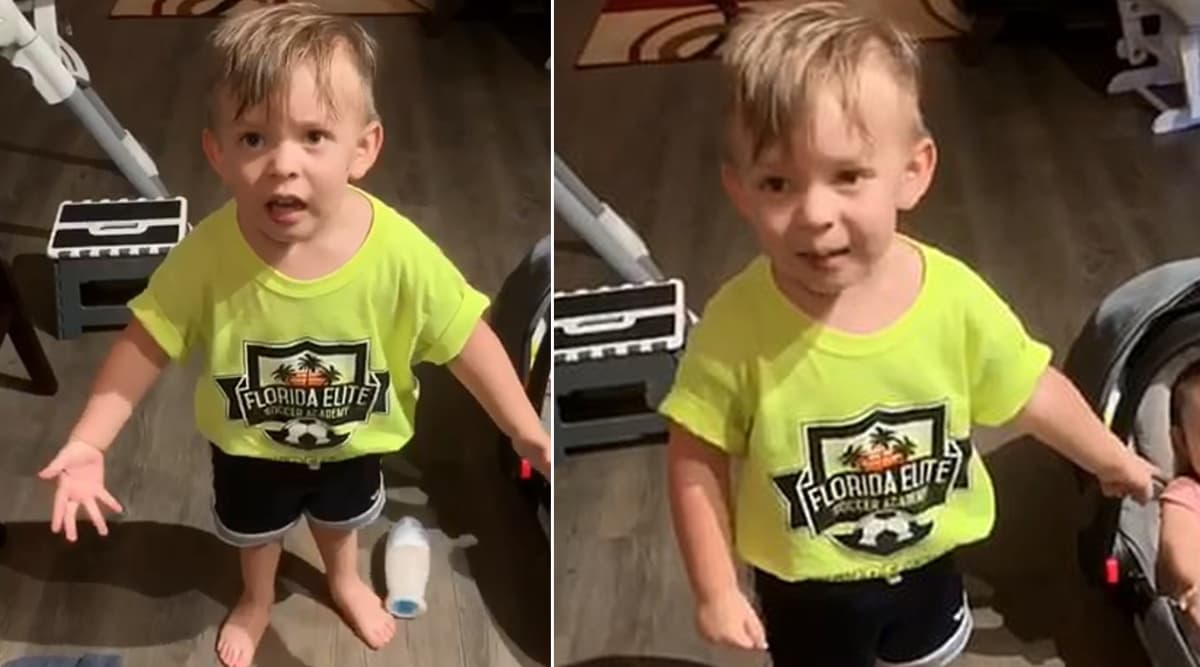 Playing or listening to babies can make you forget all your worries and calm you down. Hearing them babbling trying to communicate to adults is really amusing. And if you are someone who simply loves toddlers and their gibberish language, then this video is perfectly meant for you. Babies can be really possessive when it comes to their parents or whoever gives them love and care on a daily basis. And one such video of a baby complaining about his mother not giving him a goodbye kiss while leaving for work has gone viral on social media platforms. The clip shows the two-year-old blabbing about how his mother forgot to kiss him and his younger sister before leaving the house. Father And Toddler's Gibberish Conversation Goes Viral; Social Media is Watching the 'Funny' Video on Loop.
The baby who looks visibly irritated can be seen trying to explain how his mother's behaviour is simply unacceptable. He also points to his sister saying how mother did not kiss her either. The child's ordeal was captured on camera by his father Christos who can be heard reacting to the baby's complaint agreeing to him. Father-Daughter Pair Who Went Viral For Lip Syncing 'Girls Like You...' Bring in a Cuter Sequel After a Year, Watch Video.
On seeing the video, the mother couldn't stop laughing. Diana Simos then share the video on Facebook with the caption, "After Alexander's soccer practice I was in such a hurry to get back to work and my baby Alex was very upset he didn't get the proper goodbye."
Video of Baby Complaining About Mother Not Giving Him Goodbye Kiss:
Videos of little ones throwing tantrums just for attention often go viral on social media. Diana said while she laughed at her baby's reaction at the same it was heartbreaking also. We are sure, she will never leave the house in the future without kissing her babies. The video has received over 52,000 views and more than 900 shares and continues to be shared widely on multiple social media platforms.