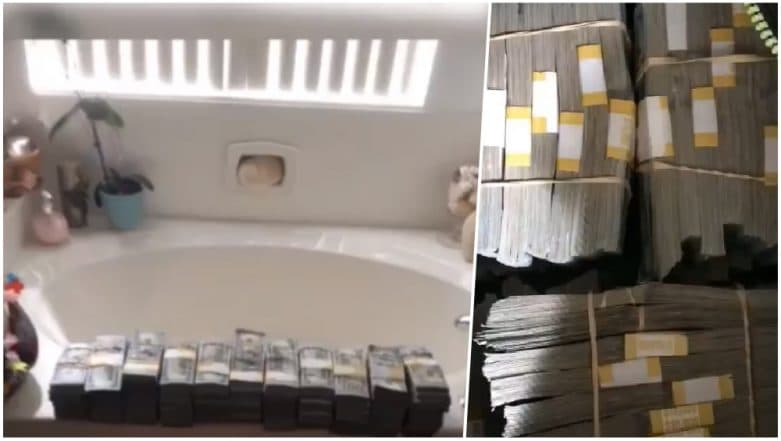 Some people are considered as lucky, while there are a few who are really lucky. Not everyone manages to come close to it unlike the man who bought a storage unit for 500 dollars (over Rs. 35,000) opened it up only to find a safe containing 7.5 million dollars (close to Rs. 53 crores). The astounding find was revealed by American Storage Wars television series star Dan Dotson and his wife, Laura. The story of the storage unit owner who hit it big was shared in a video by Dotson in his Twitter account, and since then it is only going viral. Online Gambling Firm Bet365 Owner Denise Coates Earned $279 Million As Salary, Growth of Betting World Worries Netizens. 
Dotson runs the auction house American Auctioneers since 1974 and has appeared on the show Storage Wars since 2010 which features people bidding on unclaimed and abandoned storage lockers across the country. It all happened on November 1, when a quiet woman approached to Dotson at a charity event. She had a story for the auctioneer. Her friend bought a storage unit from Dotson last month in Southern California and found inside that was shed was 7.5 million dollars in cash. It came as a surprise or you can say a shock to both the buyer and the auctioneer.
Watch the video of Dotson relaying the story of the storage unit owner.
7.5 million dollars found in a #SelfStorage Unit #Auction

New #StorageWars

Nov 7th 10/9c @AETV

Here's more to the story. https://t.co/Xea7UT6Puy…

Nationwide Self Storage

Auctions Sign Up!https://t.co/m1fWpP2qrv https://t.co/oJXPhUKzCu @paytheladylaura @storageauctnet pic.twitter.com/yH7QW0lgyZ

— Dan Dotson on A&E (@auctionguydan) November 7, 2018
He began, "This lady came to me and she says I want to tell you this story." Dotson continued, "She said, 'my husband works for this guy and he bought a unit from you and it had a safe in it.' Inside the safe — normally they're empty — but this time it wasn't empty. It had $7.5 million dollars inside." After the discovery of the money, Dotson said things got complicated, and the new owners were contacted by an attorney representing the original owners of the unit. Employees Grill Rat in a Hawaii-Based Teddy's Bigger Burgers Restaurant, Thankfully Shuts Down after Gross Video Goes Viral. 
The lawyer attempted to strike a deal! At first, the original owners of the safe offered the new owners 600,000 dollars (above Rs. 4 crores) and eventually doubled their reward to 1.2 million dollars (above Rs. 8 crores) in order to return the rest of the money to them. They ultimately agreed, and the current owner walked away with 1.2 million on their 500 dollars investment. The storage space was auctioned off because of its owners who had not paid the unit's rental fees, which is a relatively small price to pay for keeping such a huge amount in safe.
The Storage Wars star did not reveal the identity of the lucky buyer of the unit or the woman who told him about the findings. He also did not disclose when or where it had been purchased. There are many other intriguing details that Dotson chose not to say to his fans online like who was the original owner or why there was an abandoned safe inside and many more.