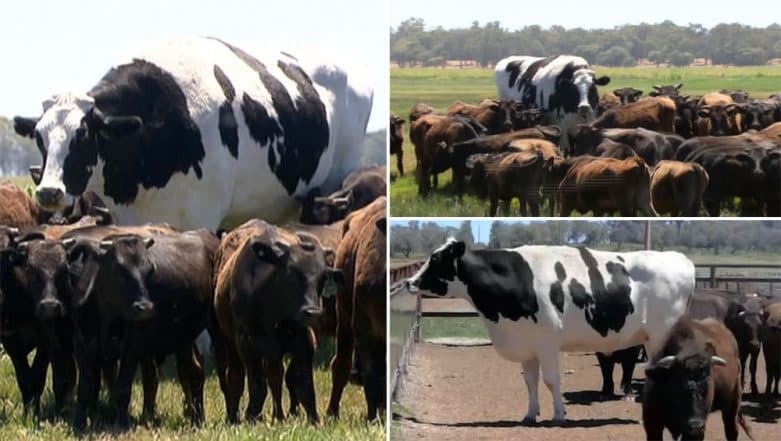 A cow from Australia has become the internet's latest obsession with its name and size. Named Knickers, the bovine is from a farm town Myalum in Western Australia and is too huge compared to other cows. Knickers is 6 feet 4 inches tall and weighs more than a car, about 1,400 kgs. And its very size has saved itself from going into a slaughterhouse. Compared to the other cows of its size, Knickers is twice as heavy and about 18 inches taller. The pictures of this cow were shared on social media and people were in awe of its sheer size. Cow Wearing a Bra, What Did We Just See in This Pic? British Farmer's Invention is Too Crazy!
It is a Holstein Friesian cattle breed which is twice as big as the average cows of that breed. Farmer Geoff Pearson said in a news report, "He was too big to go into the export plant's chain. We have a high turnover of cattle and he was lucky enough to stay behind." As soon as the picture of Knicker was shared on Twitter, people were in love with the cow. Due to its size, it couldn't have been processed at the facility so the cow gets a happily ever after. Pregnant Cow Goes Over EU Border, Sentenced to Death for 'Illegally' Wandering. 
Check Pictures and Videos of Knickers the Huge Cow in Australia
The bull that has to be seen to be believed. It's no optical illusion, Knickers the steer is enormous, with a standing height of almost two metres and weighing close to one and half tonnes. #BigBull #TTAdelaide pic.twitter.com/gSsrfgS7Sq

— TodayTonightAdelaide (@TodayTonightSA) November 27, 2018
LOOK how big this cow is pic.twitter.com/aybcxDchoD

— Madison (@madisonspringg) November 27, 2018
Isn't it massive? People too were left admiring its size. Well, as it is saved from the slaughterhouse, it is being put to work by the owner. The cow is a favourite even among its herd. So whenever it is in the paddock, the other cattle also keep going around him. Pearson informed, "Whenever he wants to get up and start walking, there's a trail of hundreds of cattle following him."