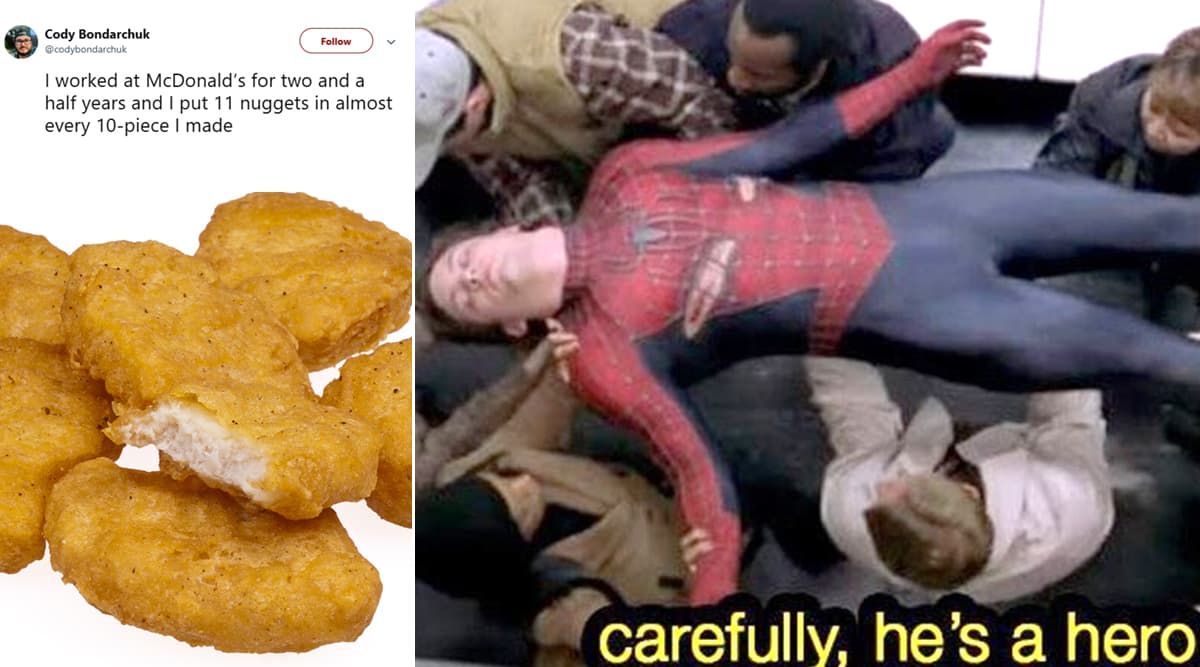 Do you know who a real hero is? The person who knows that you can never have enough nuggets in your life. A tweet that is going since yesterday, has made us meet one such hero who would put 11 nuggets in every 10-piece for two and a half years for his costumers. Don't you have tears in your eyes already? So Cody Bondarchuk who goes by the handle name @codybondarchuk on Twitter, posted a status saying that in his working span of two and a half years in a McDonald's outlet, he would give away an extra nugget to almost everyone who ordered a 10 piece order of the same snack. His act of kindness is now being lauded on the internet. McDonald's Customer Records Employees Gossiping on Drive-Thru Mic, Conversation Goes Viral on Twitter. 
The fast-food giant's nuggets are one of their very popular snack items with a huge fanbase. And finding an extra piece of any food item that you like makes you happy instantly. So now we know who was behind spreading all the happiness amongst foodies. According to his Twitter profile, Cody Bondarchuk seems to belong from Alberta, Western Canada and that makes so much sense because the entire world knows how polite and kind people from Canada are.
Well, ever since Cody has posted his share of kindness online people are coming with amazing reactions praising the man. Most of them are calling him a hero that we believe is well-deserved! The tweet has received 42.2K retweets and 541.6K likes as we are writing this. Let's check out some of the best reactions:
So True
the hero we honestly didn't deserve

— chad (@endofanerajc) November 16, 2019
Yes!
You did God's work🙏 pic.twitter.com/MnHDgBysHu

— Jim Edwards (@MESSIAH11_4EVER) November 16, 2019
You Deserve a Salute
— Peter Hepner (@PHep32) November 16, 2019
Friends!!!
— SteeOne 🌹🐦🏳️‍🌈🇵🇷🇮🇹🇺🇲🗽 (@SteeOne) November 16, 2019
Respect
— The_Nuecents (@TNuecents) November 16, 2019
Admiration
— Nick (@NicVisuals) November 16, 2019
Tears
You a real one pic.twitter.com/oXjs0m4mmP

— Lil very (@dark_tail_exe3) November 16, 2019
A Unanimous Thank You
GGWP pic.twitter.com/yJAsi9eNNR

— Gill (@gillsterein) November 16, 2019
Standing Ovation
You sir are a true angel 😿😫 pic.twitter.com/GjmTrnuL2T

— Kim 🥒 (@KeepinUpWithKim) November 16, 2019
Absolutely
Gods work

— dax (@aduItwaste) November 16, 2019
Love Everywhere
— Devin Nunes' Black Friend Who Only Has 1 Line (@WingersSo) November 16, 2019
King
— Drip God Schotty (@schottywannahug) November 16, 2019
Drake Hug
— CJ (@Truthteller2all) November 16, 2019
All Hail, Cody
— David (@ohdavey64) November 17, 2019
Spreading joy and HOW! That one extra piece of nugget may have made so many people's days. Imagine having a bad day and finding an extra nugget in your 10 piece pack? Food equals joy and joy equals this man who is spreading it. We wonder McDonald's may have to say about that?