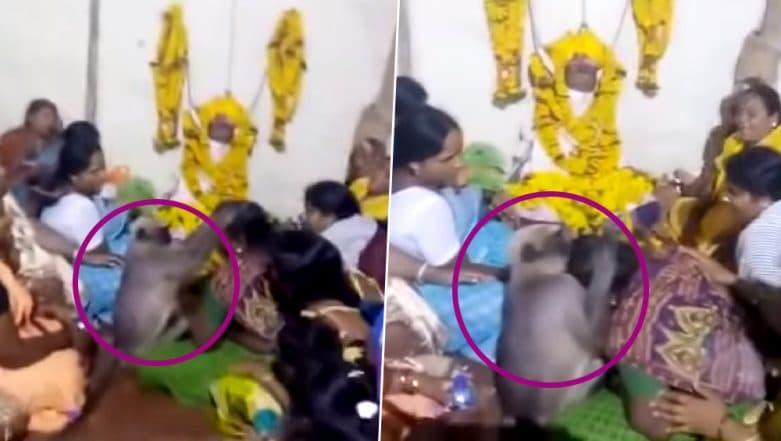 There have been instances when monkeys have proved to be trouble to the local areas in some parts of the country. Especially the group of monkeys which are found in an around the tourist spots are known to snatch items from the visitors and create panic among everyone. But in one village in Karnataka, people await a monkey during funerals. In the small town of Nargund, Karnataka, a monkey is said to attend funerals! A video is going viral which shows the monkey consoling a crying woman. The monkey is seen walking up to the crying woman and putting hands on her shoulder, patting her head in a way to calm her down. Video of Monkey Driving Bus in Karnataka Has Gone Viral, KSRTC Driver Removed from Duty.
As per reports, the video was captured from a funeral of an 80-year-old man recently. His relatives had gathered and mourned the death of their family member. A monkey suddenly entered the scene and started consoling the woman and some other relatives of the deceased man. It eventually walked away. The video was shared on social media and has amused all the viewers, getting more and more shares and views. In A Hilarious Video From Chinese Zoo Monkey Snatches Tourist's Wallet & Throws Away All the Money.
Watch Video of Monkey Consoling Relatives at a Funeral in Karnataka:
As per the locals, this is not the first time the monkey has been spotted in a funeral. The langur is seen several times attending funerals! Parameshwara Nayak, a resident of the town was quoted in HT report, "The sound of loud wailing possibly drew its attention. It attends the funerals and mimics how we console each other." He has spotted the same langur at other funerals. He even added that if this monkey isn't seen then the funeral seems incomplete! It is indeed strange how the monkey has developed a habit of entering funerals and consoling people, vis-a-vis the others who are usually just shooed away from entering the local areas.