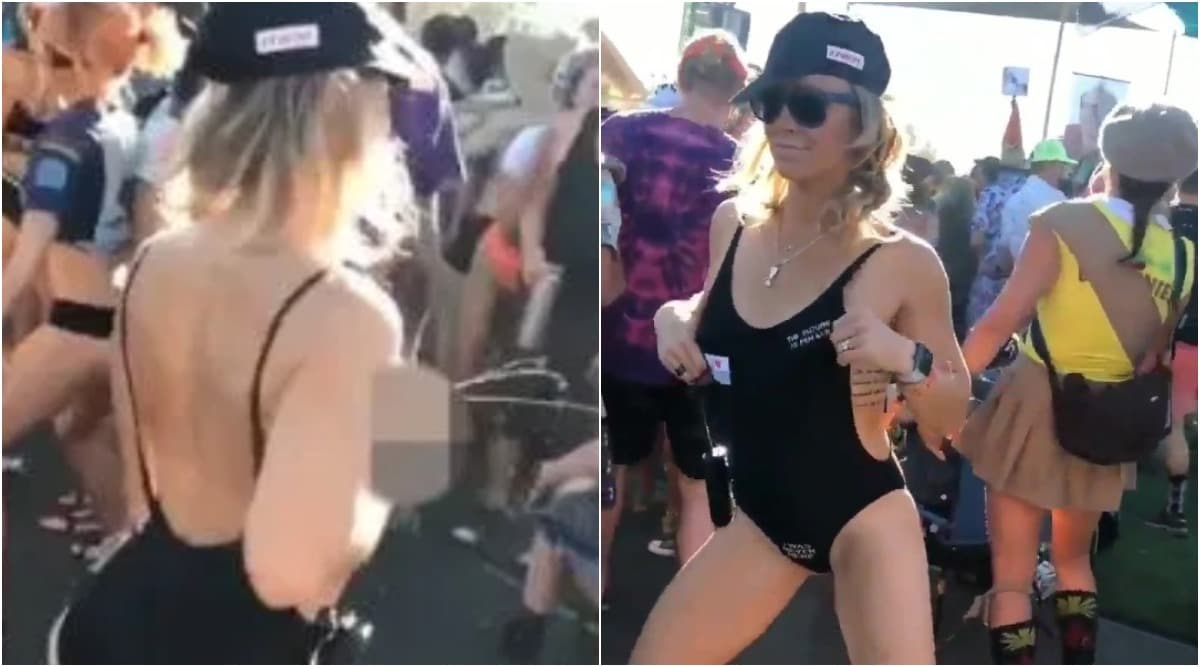 Video of a mother spraying her breast milk at people at a rave party has gone viral on social media platforms. The clip shows the woman dressed in a black leotard, pink boots and black glasses grooving to EDM alongside other festival-goers. While dancing to the music she pulls down the sides of her outfit to show her breast. The woman then proceeds to spray her breast milk at those dancing in front of her. As the video went viral, she was brutally trolled for not being a responsible mother. The incident happened at Dirtybird Campout, in Southern California last month. Somebody in the background can be heard saying, "Oh S**t!" while another says, "Jesus Christ, Oh my God!"  Texas Mother Sentenced 40 Years Prison for Letting Her Daughters Slowly Die in Car As She Partied.
However, unaffected the woman then begins twerking while some levellers can be seen laughing at the sight. Meanwhile, a woman can be seen encouraging the mother by kneeling in front of her trying to catch a few drops of milk in her mouth. The video was captured a shocked attendee Eric Falconi, who had thought he had "seen it all" at rave parties. He tweeted the clip with the caption, "Dirtybird Campout, Just when I thought I had seen it all. You never disappoint. Shit got pretty weird #dirtybirdcampout."  A lot of commented saying that they were disgusted watching the woman's actions.  US Mother Kills Two-Year-Old Son for Bedwetting, Sentenced to 40 Years Jail.
Woman Squirting Breast Milk During Dance at Rave Party:
Dirtybird Campout, Just when I thought I had seen it all. You never disappoint. Shit got pretty weird #dirtybirdcampout pic.twitter.com/hohsM73ftN

— Eric Falconi (@ekid_818) October 8, 2019
Here's How Twitterati Reacted:
Her kid at home starving while she out here partying pic.twitter.com/wXS5uMDu2k

— just nat (@Nathagod_) October 9, 2019
When It is Not a Good Sight!
— FER SURE (@FerSureGirl) October 9, 2019
Nobody Wanted to See It:
When the chick at the bottom started taking tittie milk shots. pic.twitter.com/LP8tC0NlCl

— SukYuhMoomaStinkinPumPum (@LordRandy_) October 9, 2019
Everybody Right Now After Watching The Video:
— 𝒢𝓇𝓊𝒷𝓈 🌺 #Tulsi2020 #UnusualAmerican (@26Grubs) October 9, 2019
People Looked Clearly Unimpressed!
this it what it means when you turn something so pure and amazing into something corrupted and gross

— Ivon🌹 (@yvonneevazquez) October 9, 2019
Before the video ends, a woman can be heard screaming, "How's she doing that!" The video has received over 2.7 million views other than 24,400 likes and 8,200 retweets. As the clip was shared widely, people condemned her behaviour and pitied her child. While most of them criticised her, some defended her actions.