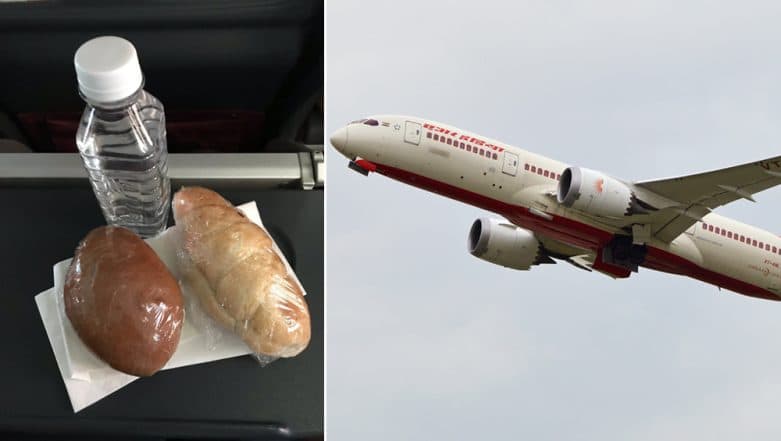 We Indians boast of unity in diversity but often the varying religious ideologies are pitted against each other. The results are not pleasing and have led to cases of riots and violence in the past. So when there are examples of prevalent unity among the people, it is a good feeling of humanity restored. Something like this was experienced by a Muslim flier named Rifat Jawaid who was aboard an Air India flight. Observing the month of Ramadan, he wanted to break his fast at Iftar time. But as he was flying during that time, he asked the air hostess for a bottle of water. The air hostess returned with a Iftar meal for him. Small gesture but a such a huge delight right? Communal Harmony Wins Over Violence in Assam's Hailakandi: Muslim Man Helps Hindu Neighbour's Pregnant Wife Reach Hospital on Time Amidst Curfew.
Journalist Rifat Jawaid was flying from Gorakhpur to Delhi when he experienced the sweet gesture from Air India. He asked for a bottle of water and got one. But he asked for another, when the air hostess asked him to go back to his seat. To his surprise, she returned with a meal of two sandwiches and said, "please don't hesitate to ask for more." He took to Twitter to share the incidence and needless to say people are filled with all the love and faith in humanity.
Check Rifat Jawaid's Tweet About the Sweet Gesture by Air India Air hostess:  
On my way back to Delhi in @airindiain Alliance from Gorakhpur: Iftar time was nearing so I walked up to cabin crew member Manjula, asked for some water. She gave me a small bottle. I asked, "can I pls have 1 more bottle since I'm fasting?"

Manjula replied, "why did you... pic.twitter.com/QaMoAR5CqC

— Rifat Jawaid (@RifatJawaid) May 18, 2019
..leave your seat?You pls return to your seat." Minutes later she arrived with two sandwiches and said, "please don't hesitate to ask for more."

Of course I didn't need more. They were more than adequate for me. What was the most satisfying was Manjula's heartwarming gesture. pic.twitter.com/DeXhvMnxwJ

— Rifat Jawaid (@RifatJawaid) May 18, 2019
Needless to say, people too were delighted with the heartwarming gesture and left positive comments about faith restored in humanity. Check some of the tweets. Kidney Transplant Sends Out Message Of Unity in Mumbai, Hindu And Muslim Women Donate Organs to Each Other's Husbands.
Good folks in the world
There are plenty of good people still exist in the world

— Apolitical_Mango (💯 % Follow🔙) (@somebodys_meh) May 18, 2019
Small gestures matter
Small gestures define humanity. Thank you Manjula 👍👍👍🙏🙏🙏

— KK (@Khan007Always) May 18, 2019
The real India
this is real india❤️🇮🇳

— osama ahmed (@i_m_osama) May 18, 2019
We have plenty of people like #Manjula around. This is our real culture. We must fight together to preserve our culture.

— Ansar (@AbulAnsar) May 19, 2019
The gesture was small but it leaves an impact on not just Rifat Jawaid but also others. In times when we still hear of communal violence, it is such instances that act as a ray of unity among all commoners.