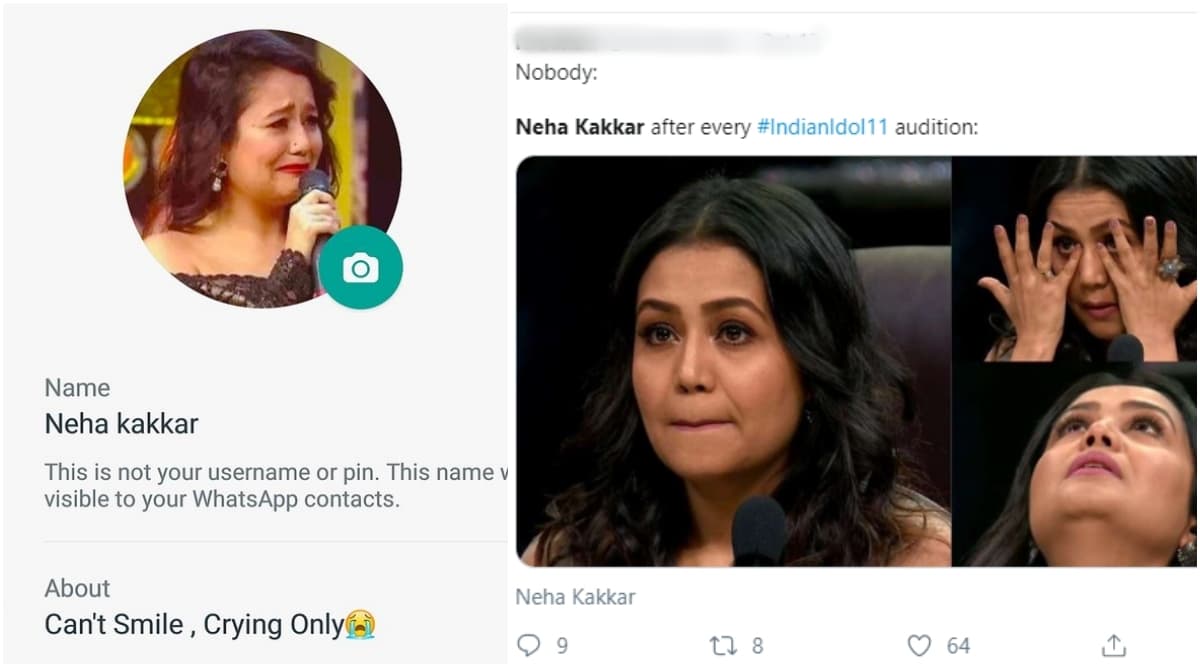 Popular music reality show Indian Idol is back with its 11th season and the auditions are going on. Neha Kakkar,  Anu Malik and Vishal Dadlani are the judges for the season, travelling to different cities to spot the singing talents. The latest episode of the show on the weekend is already mired in a controversy following a contestant forcefully kissing Neha Kakkar on stage. A die-hard fan of the singer hugged her and kissed her on the cheek, without her consent. The incident was shocking even for the other judges. But some fans said that it looked like a scripted scene for TRPs. This incident aside, Neha Kakkar is known for getting emotional on the show quite often. And while Neha cannot always hold back her tears, netizens cannot stop making jokes and memes on her. She has already cried during one of the auditions and funny memes on Neha Kakkar have started trending online.
A visually challenged contestant, who came for the audition, narrated his story about how he once tried to kill himself. Neha could not bear it. The contestant performed the song Tu Na Jaane Aas Paas Hai Khuda and Neha could not hold back her tears. Although the story was quite emotional, it is not the first time Neha has cried on the show. Funny memes and jokes on the singer were shared on social media. Indian Idol 11: Why Sony TV Also Deserves to Be Blamed for Exploiting Neha Kakkar's Forced Kiss Footage.
Check Funny Memes on Neha Kakkar Crying in Indian Idol 11:
Every Episode Drill
No one:

Not a single soul:

Neha Kakkar every day in Indian Idol: pic.twitter.com/4BRq0w1T30

— geeta. (@___lovey0u3000) October 15, 2019
Nobody:

Neha Kakkar after every #IndianIdol11 audition: pic.twitter.com/g5F6tPfIc7

— Rroshan (@iamRroshan) October 13, 2019
A Side You Didn't Know of Her?
Neha kakkar getting ready for work pic.twitter.com/CShd50cZIA

— MEMEsahb🦅 (@bekaar_aadmi) October 21, 2019
Haha, What Even!
Contestant : I have just one father..

Neha Kakkar : pic.twitter.com/JSxi9rwNo3

— Chirag (@chirag_rachchh) September 14, 2019
Naam toh Suna hi Hoga
View this post on Instagram
Shortest Waterfalls!
View this post on Instagram
Neha's Alternate Universe
Neha kakkar in alternative universe pic.twitter.com/Lyj7mGG6Ai

— Tensor (@tensor_bolte) October 11, 2019
Neha's WhatsApp Status Update Be Like...
CID : Show me Yours Identity Card

Meahwhile ,

Neha Kakkar : pic.twitter.com/TueBn7PHJ5

— Akash🇮🇳 (@Akash_ky_Tweets) October 16, 2019
It is okay to be a little emotional at times, but Neha's constantly flowing tears have unfortunately become a reason to laugh on the internet. The show is right now just in its second week and it remains to be seen if we will see more outbursts from the singer yet again. In that case, expect funnier memes and jokes again.