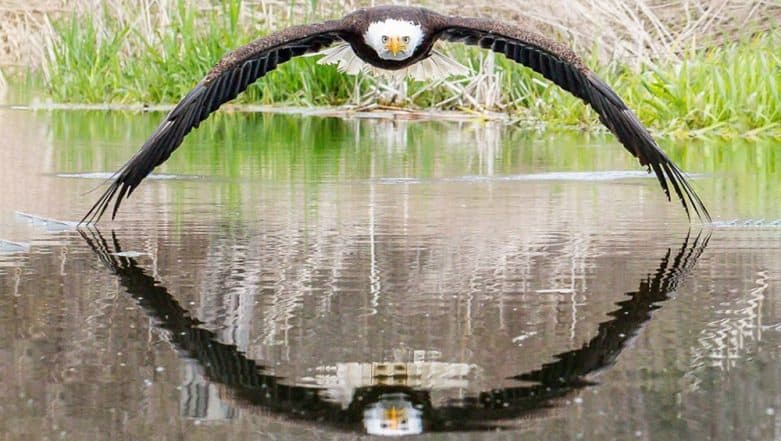 Nature is beautiful is an understatement. And there are so many stunning pictures of nature that are taken every day, which showcase the absolute beauty in each place. But an amateur photographer Steve Biro has made quite a mark with his picture of a bald eagle. The picture which captures not only the bird but an exact symmetrical reflection in the water is going viral. It was an extremely rare moment to get the perfect shot of the eagle flying and its reflection. 'Smiling' Great White Shark Captured by Photographer in South Africa, Check Terrifying Pics!
Biro wasn't sure if he would get the perfect shot because he had tried it once before and could not get it. Trying photography for the last decade he got lucky on May 4 when despite being a little cloud, the weather and the ripples in the water seemed just perfect. Talking about it, Biro told the Canadian media, "I had in mind the type of shot I want to get. I knew it would be tough. I could tell he was annoyed with me being so close to the edge of the pond. That seemed to be his territory." Plastic Pollution: Photographer Captures a Bird Offering Plastic Waste as a Mating Gift to Partner, View Heartbreaking Pic!
View Picture Captured by Photographer Steve Biro of Bald Eagle and His Reflection:
Soon enough the picture went viral. It wasn't easy to get this picture. After about a hundred pictures, he got the one perfect shot. The eagle flew over the pond multiple times but he was also unhappy about Biro's intrusion. "He flew kind of straight at me and over my head, and was close enough that I could feel the wind from his wings as I laid there," he said. As a photographer, Biro was taken many such beautiful pictures but this is among his top ten pictures. As the photograph went viral, he said, "It became quite overwhelming, to be honest, but it's a lot of fun too. It's quite a wild ride." It is indeed an incredible picture that is winning hearts and stay in sight of those who have seen it.