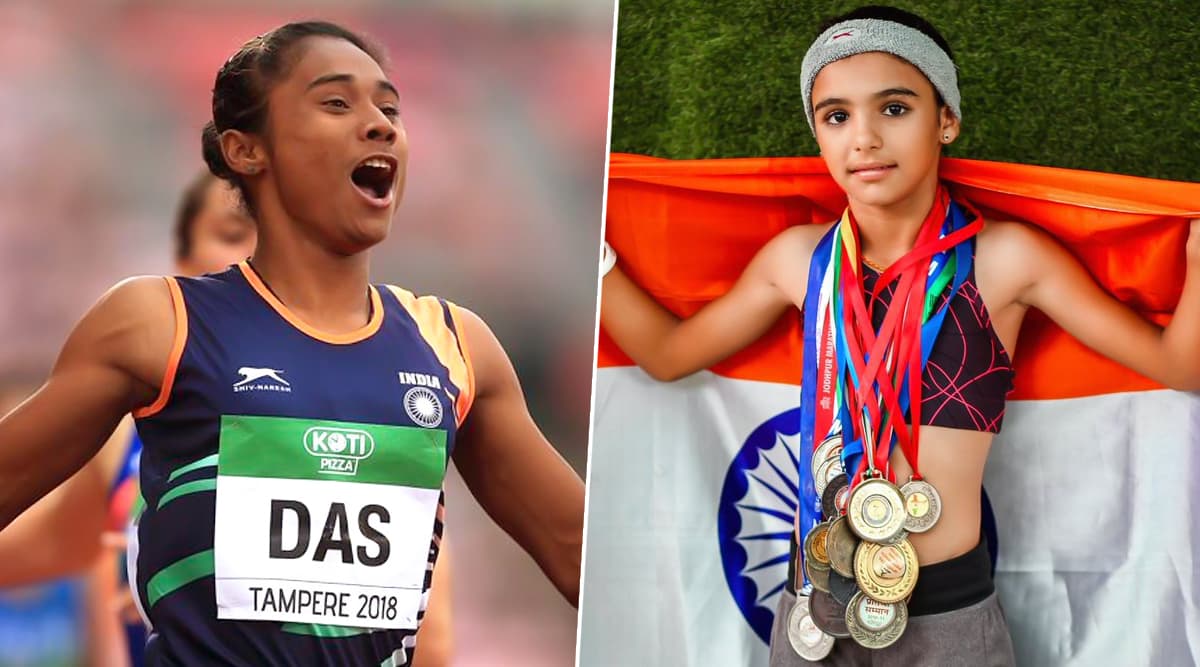 It has been raining gold on the female athletes in India who have gone extra miles when it comes to winning medals and championships for the country. The nation's track record in sports has improved, and recently sportswomen from small towns have shown us what it takes to shine on the global stage. We could not be prouder! To commemorate the accomplishments of female athletes in India who are scaling new heights, Google launches a new ad campaign called "With A Little Help." All you need to do is type your queries on the Google search box to achieve your goal. The search engine giant has got the best answers for you. The video features accomplishments of sporting stars like Pooja Bishnoi, Naina Jaiswal, Hima Das and others who continue to inspire every girl to dream big and be unstoppable!
The video consists of a song and real-life footage of sportswomen and their achievements. Pooja Bishnoi, who is Asia's first little girl with six-pack abs, is the latest sensation to join the list of young athletes, showing that her early success is no fluke. Nothing is impossible, and the 8-year-old is determined to climb newer heights in the field of athletics. Most Tweeted Handles in Sports 2019 - Female: PV Sindhu, Hima Das, Sania Mirza & Other Top Female Twitter Profiles in India. 
Pooja Bishnoi's Practise Session!
How much speed do you think my bowling threw?My bowling speed has increased in the last two months because I have done the excise of javelin throw to increase my speed which is giving me a lot of benefit.@imVkohli @vkfofficial @Jaspritbumrah93 @ImIshant @BhuviOfficial @y_umesh pic.twitter.com/J41BFgL7iy

— Pooja Bishnoi (@poojabishnoi36) December 6, 2019
Look At Her Fly!
Broad jump @imVkohli @vkfofficial #VKF #ViratKohli #ViratkohliFoundation #BroadJump #Jump #LongJump pic.twitter.com/qQac7oB3Oh

— Pooja Bishnoi (@poojabishnoi36) November 23, 2019
Then again, we have Naina Jaiswal, who is only 19-year-old but won multiple titles in both national and international championships. Besides, Naina has completed her Post-graduation from Osmania University at the age of 15 and currently pursuing her PhD. In only 20 days in July this year, Hima Das won five gold medals in different meets across Poland and the Czech Republic. Four of her victories came in the 200m sprint while her fifth top-podium finish was in the 400m event. She is also the second-faster Asian, featuring in the top-10 under 20 runners in the world in the discipline in 2019.
Watch Video of Google India's Campaign:
These women are athletes who will not slow down. They are determined to achieve more success to their caps, and we cannot wait to see them in the global platforms as they continue making our country proud. Along with these three young and talented sportswomen, Google's campaign features footage of other girls who have painted greater accomplishment in the field of sports. "With A Little Help," Google India campaign is for all the girls who dream alike. It aims to prepare them and provide with all the necessary information that will help them to achieve the success they crave.