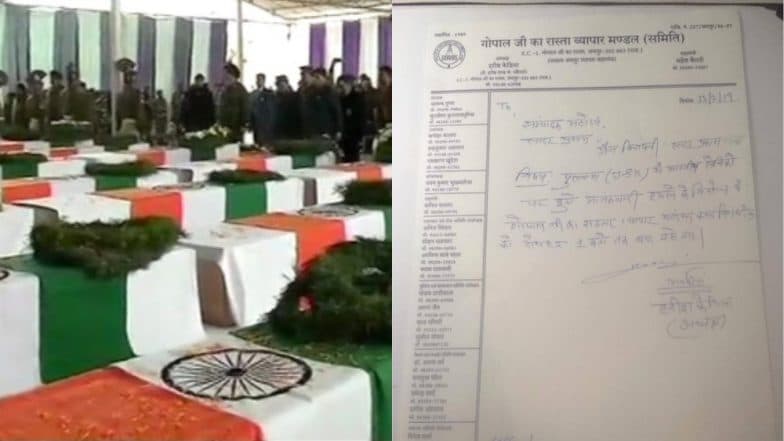 New Delhi, February 15: A day after the deadliest terror attack in last three decades in Jammu and Kashmir's Pulwama district where 40 CRPF jawans have been martyred, a message is becoming viral on social media in Rajasthan on Friday where an appeal of 'Bharat Bandh' has been called on Saturday. After the message became viral on WhatsApp and Facebook, Gopal ji's Rashta Vyapar Mandal (Samiti) in Jaipur has appealed to the people to observe a nationwide strike for a day to pay tribute to the bravehearts who sacrificed their lives to secure the country. Also, the organisation has decided to close the business till 1 pm tomorrow in Jaipur.
According to a media report, the message reads, "One day should be in the name of martyrs of the country. Often Bandhs are observed in the name of Patels or inflation. One should support the Bandh in the name of martyrs for at least a day. Let's observe 16th February as Bandh in the name of Martyrs."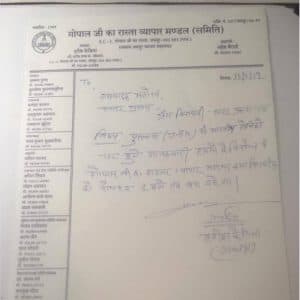 Gopal ji's Rashta Vyapar Mandal (Samiti) in Jaipur issued a press release regarding the Bandh, stating they would observe close the business till 1 pm tomorrow in Jaipur. The message is becoming viral in the social networking website WhatsApp and Facebook. CRPF Jawans Wreath-Laying Ceremony: PM Narendra Modi, Rajnath Singh, Nirmala Sitharaman, Rahul Gandhi and Others Pay Last Respect to 40 Martyred Bravehearts of Pulwama Terror Attack in Delhi.
Earlier, the mortal remains of 40 martyred bravehearts of CRPF personnel arrived at the Palam airport in the national capital. Prime Minister Narendra Modi, Union Home Minister Rajnath Singh, Defence Minister Nirmala Sitharaman, and other Union Minister paid their tributes during the wreath-laying ceremony. Congress president Rahul Gandhi too paid the last tribute. Among other prominent leaders and prominent dignitaries who paid last respect to the martyrs include Union Minister Rajyavardhan Singh Rathore, Delhi Chief Minister Arvind Kejriwal, the three defence chiefs – Army, Navy and Air Force.