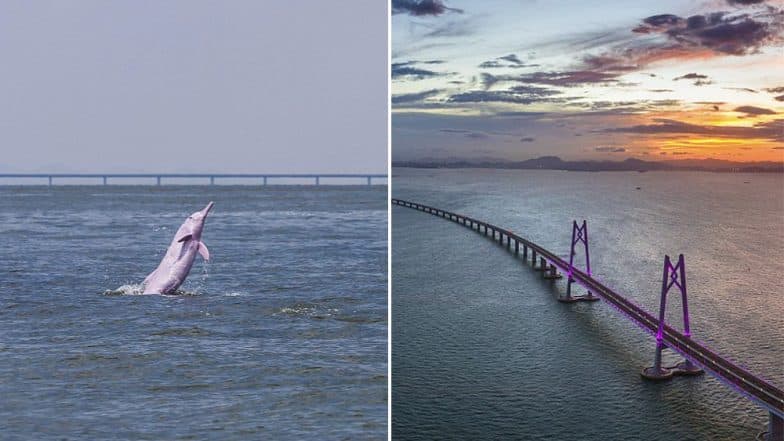 The world's longest sea bridge which connects Hong Kong, Macau and China has opened in this week. The bridge was constructed over a period of 9 years and connects the semi-autonomous regions of Hong Kong and Macau. The constructing of this bridge also faced a lot of criticism from activists. The reason cited was the construction through the ocean waters would affect the marine life adversely. But soon after the opening of this bridge, a video has surfaced which shows rare white dolphins swimming in the ocean waters. World's Longest Sea-crossing Bridge Opens Between Hong Kong, China. 
The bridge is a magnificent piece of architecture, but it caused several environmental concerns. The white coloured dolphins are very rare and are called as Chinese dolphins, as they are frequently seen along the Chinese coast. They could be a little pinkish in colour as well. When the bridge was proposed there was a lot of opposition regarding the damage of the marine ecosystem. But it is good to see the white dolphins peeping out again. Tourists in China Fall Off Suspension Bridge as They Jump, Bounce and Disrupt It for Fun. 
Check Pictures and Videos of White Dolphins Seen Along the Sea-Bridge in China
Rare Chinese white dolphins spotted as Hong Kong-Zhuhai-Macao Bridge opens pic.twitter.com/Hv1eIOKjVi

— China Xinhua News (@XHNews) October 23, 2018
A Chinese white dolphin was filmed leaping out of the sea near the magnificent Hong Kong-Zhuhai-Macao Bridge, proving that infrastructure construction and ecological protection can go hand in hand. (Photo: VCG) pic.twitter.com/8lBCj6pbBP

— China Daily (@ChinaDaily) August 21, 2018
This bridge has been tagged as the world's longest cross-sea bridge. The construction of this bridge started in the year 2009. It is a spectacular construction with almost 6.7 kms part of the bridge as an underwater tunnel. The cost of the construction is estimated at $20 billion. This bridge however, cannot be used by everyone and won't be served by public transport.