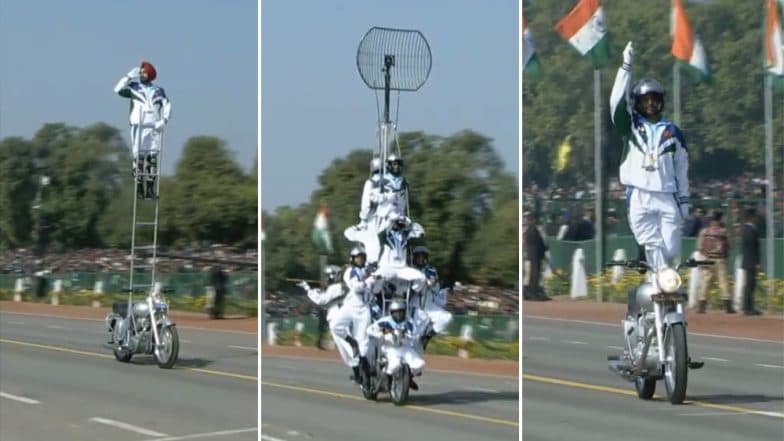 The 70th Republic Day parade was an exemplary show of art, culture and talent. For the first time in the history of Assam Rifles and also in the paramilitary, an all-women Contingent marched down the lanes of Rajpath. The highlight of the event was the performance of the daredevil team consisting of both men and women which was met with huge applause from the crowd.
Capt Shikha Surabhi from the Corps of Signals performed bike stunts alongside her male colleagues as part of daredevils which is a major attraction every Republic Day. The 28-year-old officer from Jharkhand's Hazaribagh told PTI, "I am the first woman to be part of daredevils segment of the parade. It took a lot of practice to perfect the stunts. But I am proud of this accomplishment. Women can do anything." Highly trained professionals entertained the crowd putting their talent on display. Republic Day Parade 2019 Highlights: India's Diversity, Military Might Displayed at Rajpath, See Pictures & Videos.
Watch the mind-blowing performance here:
Seamlessly binding bravery with skill, these warriors, men and women alike, ride their motorcycles down the Rajpath in style #republicdayindia #RepublicDay2019 pic.twitter.com/LudujgCdf6

— PIB India (@PIB_India) January 26, 2019
A woman officer can be seen standing on the seat of a moving motorcycle while saluting President Ram Nath Kovind.  Captain Bhavna Syal, a third-generation officer in the armed forces lead the transportable satellite terminal's contingent, while Lieutenant Ambika Sudhakaran led a marching naval contingent of 144 sailors.
Lieutenant Sudhakaran said, "Men and women are marching shoulder-to-shoulder to serve the nation." During full dress rehearsals, Major General Rajpal Punia said, "This Republic Day parade will also be an amazing display of ''Nari Shakti'' (women power), as many contingents will be led by women, besides an all-women contingent of the Assam Rifles."
South African President Cyril Ramaphosa was the Chief guest of honour this Republic Day. Dignitaries at Rajpath included President Ram Nath Kovind,  Prime Minister Narendra Modi, Defence Minister Nirmala Sitharaman, ministers and Opposition leaders.