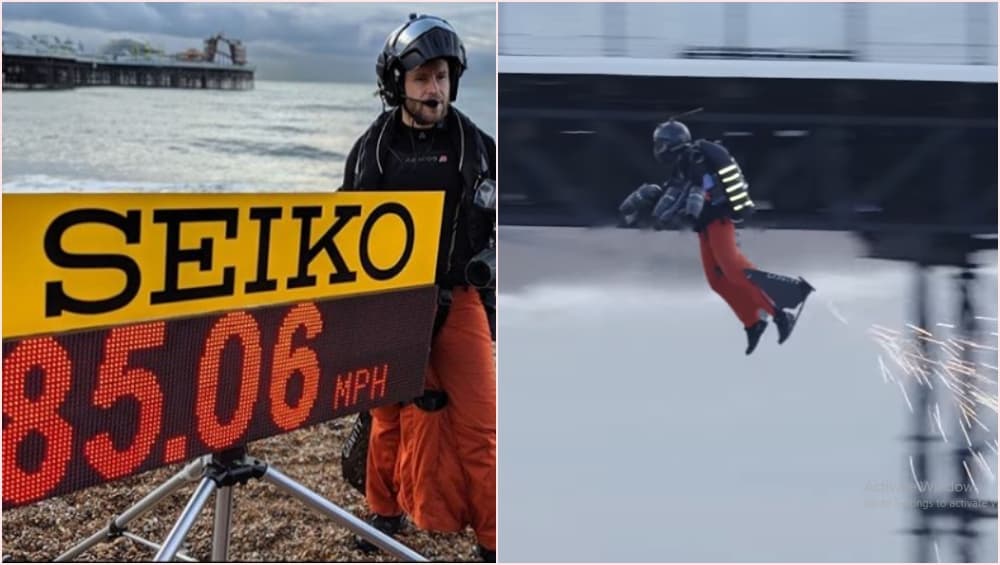 Iron Man may not be there in the Marvel cinemas anymore, but fans of the favourite character should not be disheartened, as a real-life enthusiast, just like Tony Stark has made up his mind to break all the records and brace the sky. Richard Browning, a British inventor, has quite been making the headlines. The founder of Gravity Industries has set a new record-breaking speed by achieving the fastest speed in a body-controlled jet engine powered suit (wind-guided) at 85.06 mph. With this latest achievement, he has doubled the previous record that he created two years ago, at a speed of 32.02 mph. Browning has entered the Guinness World Record for the fastest speed in body-controlled jet engine-powered suit. As we cannot applaud his effort enough, let us take a look at other videos of the real-life Iron Man. Humans to Fly Like Birds? British Inventor Richard Browning Amuses People by Flying a Jet Suit in Saudi Arabia. 
Browning first sought to develop some tech like Tony Stark back in 2017. The suit does not look like Iron Man, but it is probably the same kind of jet propulsion the suit would use in real life. The British inventor conducted his latest test at the Brighton Pier in England with the body controlled Iron Man gravity jet suit. "I'm really pleased," he was quoted saying. "I was confident we should be able to do it but that's very different to coming here and actually achieving it, especially when we make our lives complicated by putting several other pilots up as well," he added while setting this milestone and entering the Guinness Book of World Record.
Watch Video:
Browning's Instagram handle is dedicated solely to the improvements he had achieved in the past years while creating the jet engine-powered suit. In one of the videos, Browning actually looks like Iron Man, which is truly an impressive feat on its own. But he wants to go faster!
Iron Man in Real Life!
Talking about the possibility of any technical glitch, Browning was quoted saying, "You can never discount the possibility of having a technical problem, so I'm really pleased we've delivered what we've done. And that is indeed the fastest I've ever gone. In training we were doing about 75 mph so that's significantly faster."
Super Fly!
The difference between the suit he created in 2017 and now is that there is a drastic development. "Now the suit is entirely 3D printed, lighter, stronger and much smarter," Browning said in the same interview. He added that the current suit includes the ability to fine tune the power mid-flight, something that he describes as "a revolution."
Just Look At Him!
Richard's second attempt and setting a new record to allow Gravity to show how far they have come in two years. The direction of the suit is controlled by body movement alone and requires core strength to balance. We are so in awe of Browning's invention. Tony Stark would be so proud if he were a real person.