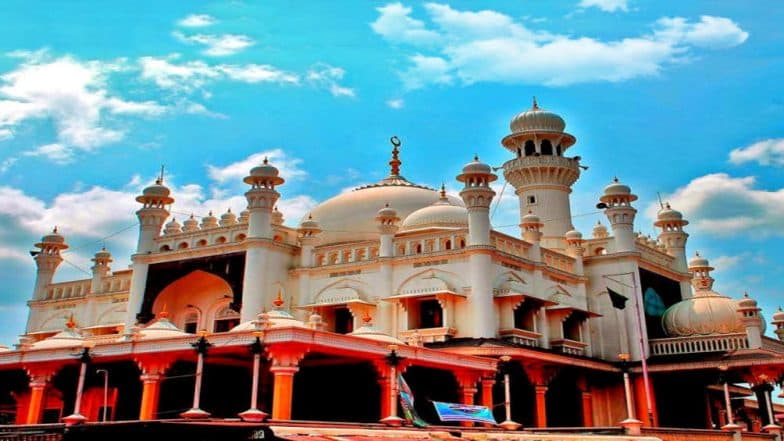 Lakhs of pilgrims throng the Sabarimala temple, chanting Lord Ayyappa's name and undertaking a long and arduous journey up the shrine. They eat modest vegetarian meals and abide by brahmacharya for 41 whole days before the set out on a hike through mountains to meet their beloved God. Although it is primarily a Hindu religious site, Sabarimala sees pilgrims coming in from various parts of the world, speaking different languages and belonging to different religions and castes. But not many know of Lord Ayyappa's Islamic connection. There is a mosque at about 60 kilometres to the east of the temple meant for Vavar, a Muslim friend of the Lord, en route to Sabarimala, where devotees pay obeisance.
During their journey, the pilgrims visit Vavar mosque while they cheer for Lord Ayyappa and 'Varvar Swami', circumambulate around the mosque and proceed from there with the offerings of Vibhuti and black pepper. Visiting the mosque is considered as an integral part of the yatra. The Lord Ayyappa devotees visit the mosque through the 160-odd days when the temple is open. History of Sabarimala: Why Women Weren't Allowed Into The Lord Ayyappa Shrine.
Even while the Muslims offer prayers in the mosque, the Hindu pilgrims perambulate the mosque. The tradition of revolving the mosque has been going on for more than 500 years now. The procession outside the mosque is decorated with elephants, then goes to the two nearby Hindu temples. Why Women Weren't Allowed Into The Lord Ayyappa Shrine.
Every year Masjid Committee of Vavar mosque organises a festival called Chandanakudam to celebrate its connection with Sabarimala temple. According to history, it is believed that Muslim Saint Vavar had a deep respect for Lord Ayyappa. His devotion became so famous that people started to stop in the mosque in Erumeli and started chanting his name 'Vavar swami', there are many stories related to the mosque but none of them is confirmed.