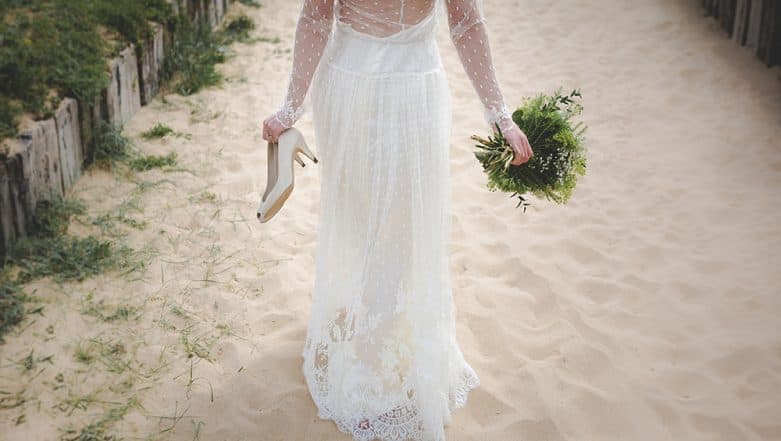 It can be really daunting when all your friends around are getting married. In fact, these days it is quite common to scroll through your Facebook feed and find all marriage related posts. A 36-year-old single woman from West Sussex in England was so tired about these wedding posts, that decided to have one of her own, but without a husband! Well, Michele Plum of Horsham organised a wedding-themed birthday party of herself and did it very well like a proper wedding ceremony. So she had a wedding dress, a tiara and a cake, but it was her 36th birthday and not an actual wedding. She realised that she loved shopping and partying about a wedding but was not keen on having a husband. Women Are Marrying Themselves! Sologamy Trend Gains Popularity Among Ladies Who Are Tired of Questions About Their Marital Status.
Michele Plum had everything like a wedding on her birthday celebrations. She sent out invitations on Facebook, asked everyone attending to wear white, or a bridesmaid dress of a "cheesy suit." The purpose behind having a wedding-themed birthday was to set a good example for her daughter. "The message behind this is that I'm independent and strong. I've tried to teach my daughter that she doesn't need a partner if she doesn't want one." she told Metro UK.
So Michele actually walked down in a wedding dress, in an aisle and a "wedding" that she had dreamt of. She became a single mother in her 20s and has watched all her friends get married over the next few years. She accepted that what she loved about weddings is the dressing up and partying. So why not have them both for her birthday. "My life's brilliant. I have no intention of settling down," she told in the report. Well, good for her that she lived the dream of her marriage, without having a partner to live along for the rest of her life.
Coming to themed birthday parties, this also reminds us of a little girl's party celebrations based on the horror film The Nun. Pictures from this birthday celebration of a three-year-old went viral on the internet. The internet was not too amused with the idea, however, since the pictures looked really creepy.