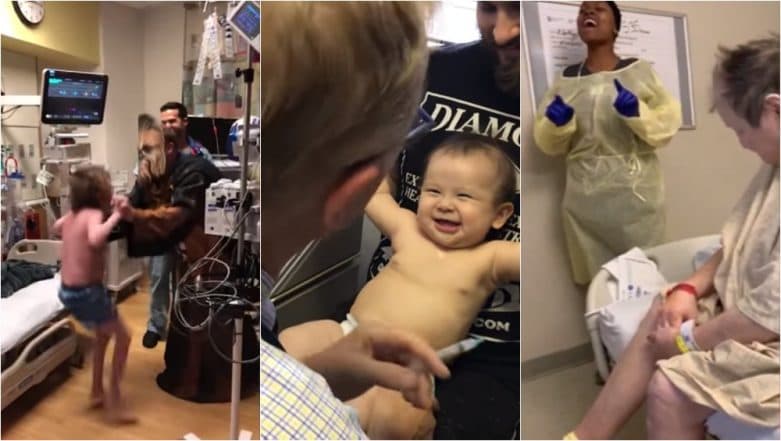 Nobody likes visiting doctors or going to a hospital, in fact, is one of the things we detest the most. However, it seems visiting doctors is not as worrisome like it used to be. Hospitals are more and more trying to make themselves people friendly, especially to put children at ease. Doctors, nurses and other hospital staff also take extra effort to ensure medicines do not scare people.
And as a part of the initiative, many hospitals have clown doctors, who are not real doctors with the understanding of medicines, but visit children to cheer them up. Clown doctors are mostly performing artists who entertain children at their beds. And now many doctors and hospitals around the world have adopted unique methods to reduce the fear of medication. From dancing, singing, performing, video of medical staff often go viral on social media. Barack Obama Becomes Santa Claus For Children's Hospital in Washington, Watch Video and Pics of Former US President.
Here are five adorable videos of doctors and nurses giving some entertainment therapy to their patients
1. Doctor sings before giving shots to baby:
The video of this doctor has been shared widely on social media, and everyone wished if they had a doctor like him. He sings and taps the closed syringe multiple times all over the baby's body putting the six-month-old at ease. And guess what? The child didn't even realise he was being injected! The medic received a lot of praises for his cute trick with some even suggesting he should be given the 'Best Doctor Award'. Maybe all doctors at children's hospital should be trained in singing too!
2. Nurse singing for a patient:
Video of Mikea Braden, a nursing technician singing for a 71-year-old woman at Saint Thomas West Hospital in Nashville had gone viral recently. She sang 'Amazing Grace' for the woman who wasn't feeling at ease there. The patient's granddaughter shared the video online saying her granny has been "blessed with the BEST nurse tech!" The hospital authorities also praised Mikea's kind gesture.
3. Hospital staff singing 'No more chemo':
Many hospitals bid goodbye to their cancer patients after getting cured by singing 'No More Chemo'. While many such videos have been shared online, one of the most adorable ones is that of a little girl at St. Jude Children's Research Hospital in Memphis, Tennessee. After Hadley was cured of acute myelogenous leukaemia (AML), doctors who visited her couldn't wait to celebrate. All of them paid her a surprise visit and sang the song to her. They also brought a bouquet of balloons and sparkling confetti making her smile.
4. Doctor dancing with a pregnant woman:
To ease the stress of pregnant women before delivery, doctors or hospital staff have now started dancing with them. Multiples videos of doctors dancing with pregnant women moments before delivering babies have gone viral on social media. This of a doctor and her patient matching steps to 'Girls like to swing' from Bollywood movie Dil Dhadakne Do was massively shared on the internet. Viral Videos of Pregnant Woman Dancing With Doctor Ahead of Her C-Section Delivery Inside OT and Other Such Episodes Will Make Your Day.
5. Doctor dressed as Chewbacca tells a boy he's getting a new heart:
Austin Eggelston was born with three congenital heart defects. While growing up, his health began deteriorating, and doctors said that he would need to go through a heart transplant to live. He was admitted to Lurie Children's Hospital in Chicago where he became close to Dr Philip Thrush, a cardiologist. Both were both big fans of Chewbacca, so Austin told Philip to dress as a Chewbacca when a heart was ready for him. And the doctor kept the promise!
The video of the boy jumping in joy had gone viral on social media with people praising the hospital staff for their support. While the medical staff is everywhere trying to revive their patients from illness, these videos of them going an extra mile to keep them happy is surely praiseworthy. We hope their efforts bear fruits helping their patients recover at the earliest.