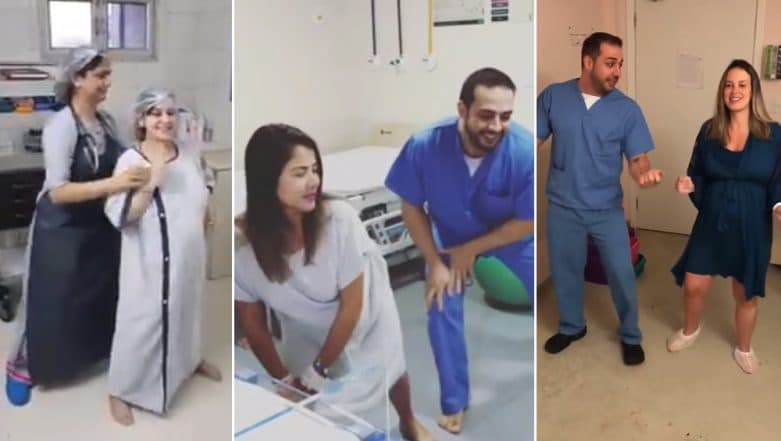 Moments before delivering a baby are quite stressful for the mother and her family. It is often worrying thinking about the one's own health and of the baby. However, it seems doctors have started adopting measures to make the mother-to-be cheerful before giving birth. Videos of doctors dancing with pregnant women to ease their tension before delivery have gone viral on social media multiple times in the past.
Recently, Harsh Goenka shared a video of a doctor and a pregnant woman dancing to 'Girls like to swing' from Dil Dhadakne Do. The duo can be seen having a great time with not a line of worry on the woman's face. The video was quick to go viral on social media with Twitterati heaping praises on the doctor for lightening the mood. These Dancing Traffic Policemen From India Remind You No Job is Easy But Can Be Enjoyed, Watch Videos.
Watch the video below:
However, some weren't sure if a pregnant woman should at all be asked to dance just before her C-section. Following which the women in the video reassured people that she is completely fine and that she has been dancing throughout her pregnancy. In a couple of tweets, she said that she is a choreographer and dancing comes naturally to her and that it is the best exercise.
Watch five more videos of doctors dancing with pregnant women before C-section:
The look and feel of an operation theatre can be frightening for some, but not with doctors like these.
Watching these women dance with such ease before delivering a baby is commendable.
And these two did not just show off their moves, but danced to perfection.
This woman decided to take the dancing challenge alone.
Seems nobody lays around in bed all day hours before delivering!
Doctors dancing with their patients have almost become an initiative by hospitals to make them feel comfortable. It is quite heartwarming to see the relation of doctor and patient in such a great way. And dance has always been popular for bringing people together since ages. Let's hope the good culture keeps going!