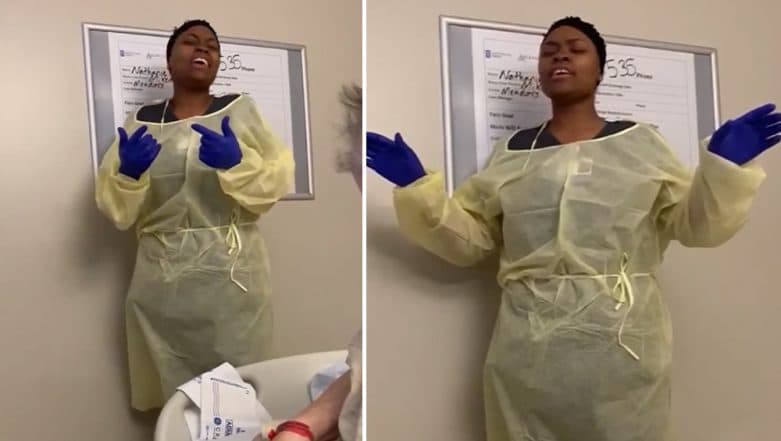 Video of a nurse singing 'Amazing Grace' to a patient at a Nashville hospital in Tennessee, the United States has gone viral. The video which was recorded on Saturday night shows a nursing technician Mikea Braden singing for an elderly woman sitting on a bed at Saint Thomas West Hospital. The video has been massively shared on social media with people applauding the nurse's kind gesture.
Olivia Kilburn granddaughter of Patsy, the woman who was admitted to the hospital, posted the video on Facebook with the caption: 'My granny is sick at St. Thomas hospital in Nashville and she has been blessed with the BEST nurse tech!' The video shows the 71-year-old woman clapping hands smilingly as the tech nurse finishes singing. Elderly Man Saved By Doctors Within 9 Minutes of Having A Cardiac Arrest.
Watch the video:
As the video was shared widely, comments praising the nurse began to pour in. One of the comments read: 'One of the most precious souls I've ever met! Another says: 'Oh what a beautiful thing for this wonderful nurse to do. Praying for your granny!' People also wished Patsy a speedy recovery and good health. Saint Thomas Health also shared the video on her Facebook saying: 'Our very own Mikea Braden, a nursing technician at Saint Thomas West Hospital went above and beyond by singing Amazing Grace to a patient.' Reportedly the woman was discharged from the hospital on Monday. Seems the music therapy worked quite quickly!