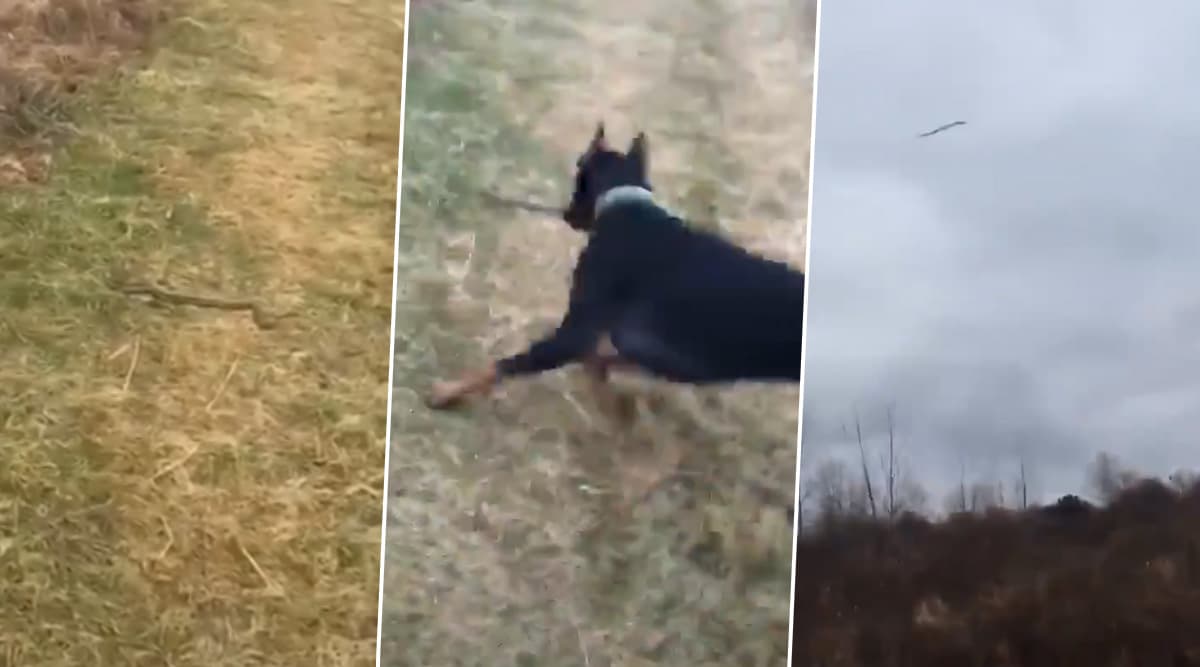 A dog is a man's best friend and we have seen several examples of this saying before. There are numerous instances when dogs have shown loyalty to their owners and saved lives too. A TikTok video of a pet dog who hurled away a snake, like it was a stick has been shared online and it is now going viral. It is unclear where the incident took place but a Doberman comes running towards his owner and on spotting the snake, he picks it up, shakes it vigorously and hurls away into the bushes. The video is going viral but while most people are impressed by the 'Good Boy' for helping his owner, others feel it was completely unnecessary since the snake did not seem like a threat. The video is now getting mixed reactions. Dogs Moxie and Miley Fight Snake to Save Baby in Kidapawan City in Philippines, Watch Heart-Touching Video.
The TikTok video by user @kbeachnau has also been shared on Twitter where it has garnered over 1.5 lakh views. Twitter user Dayana Sarkisova has shared it on her feed calling the dog a hero. In this video, a man is seemingly playing with his pet Doberman. He spots a snake in the field and is calling his dog to come around as he cannot move further because of the snake. While the pet came running towards his owner, he suddenly picked up the snake and tossed it away like it was a simple stick! Pet Dog Saves Owner From Cobra Bite But Dies of Snake Poison in Tamil Nadu.
Watch the Viral TikTok Video of Dog Hurling Away Snake in Field:
my new hero is this dog that YEETED a snake into another dimension pic.twitter.com/I3Iw6llqeF

— dayana sarkisova (@dsarkisova) January 23, 2020
The video has got over 15,000 retweets and 10,000 likes. However, there are few mixed reactions as some wonder the dog's action was uncalled for. Some have even questioned if it was a snake after all! Check some of the reactions.
Was That a Snake?
Did anyone realize that was a stick flying through the air. Take another hard look, not a snake. Too stiff, no movement in the air. Notice the height and where the stick comes from...behind the dog.

— Clean Healthy Living (@mcleveland01) January 23, 2020
The Snake was Harmless
All I saw was a dog kill some wildlife that was going about it's own business and threatening no-one. :/ Cold morning = slow snake. You can just walk around it. (And I'm from Australia where our snakes are actually pretty likely to be deadly. Still I don't kill them).

— caramelising (@Caroline_Eising) January 23, 2020
How is That a Good Thing?
A dog attacked another animal without provocation or danger to anyone and you see it as a good thing?

— Ⓟⓞⓡⓚⓟⓐⓝⓣⓢ 🥓👖 (@NatorMVP) January 23, 2020
The Dog is an Olympic Thrower!
Dog: Oh heck! A snek! No touch hoomin! I get rid of it! <performs perfect doggie Olympic hammer throw>

— Unimpressed is Yoda (@Acadian_Is_Yoda) January 23, 2020
What a Good Boy!
Good boy

— Travis Andersen (@TravisAFleisher) January 23, 2020
Want This Hero as a Companion
I would like to have that dog with me at all times for the rest of my life.

— Chris Brown (@BrownChris88) January 23, 2020
So Courageous!
Omg that is one courageous dog

— Michelle (@TobyJake_Pug) January 23, 2020
While most of the people are impressed with the dog's actions, some feel the man could've just walked around the snake and moved ahead. There have been numerous instances where dogs have saved people from snakes. A golden retriever from Arizona had gone viral after he was bitten by a rattlesnake while saving his owners from it. The pet's mouth was swollen because of the bite and as his pictures came up on social media, everyone was praising his daring attempt.