Plantation drive is gradually gaining popularity in countries across the world, but much needs to be done for the concept to be materialised on a large scale. Recently, a tweet by Turkish citizen Enes Şahin on tree plantation impressed everyone so much that the country decided to have a National Tree Plantation Day. His tweet written in Turkish with 'I have an idea' went viral impressing netizens. The tweet reads, "Let's set an example to the world, and hand down a green country to the upcoming generations." Philippines New Law Asks Students to Plant 10 Trees If They Want to Graduate.
The tweet was quick to go viral and garnered the attention of the Turkish government who promised to start a 'National Tree Plantation Day'. Countries like Australia, North Korea, Kenya and Iran have days dedicated for tree-planting. This is the first time Turkey will have an official tree plantation drive, thanks to Sahin's tweets. India And China Are Leading in Increasing Earth's Green Cover Through Various Agriculture Initiatives.
Here is Enes Şahin's Tweet:
Check Out Turkish President Recep Tayyip's Tweet: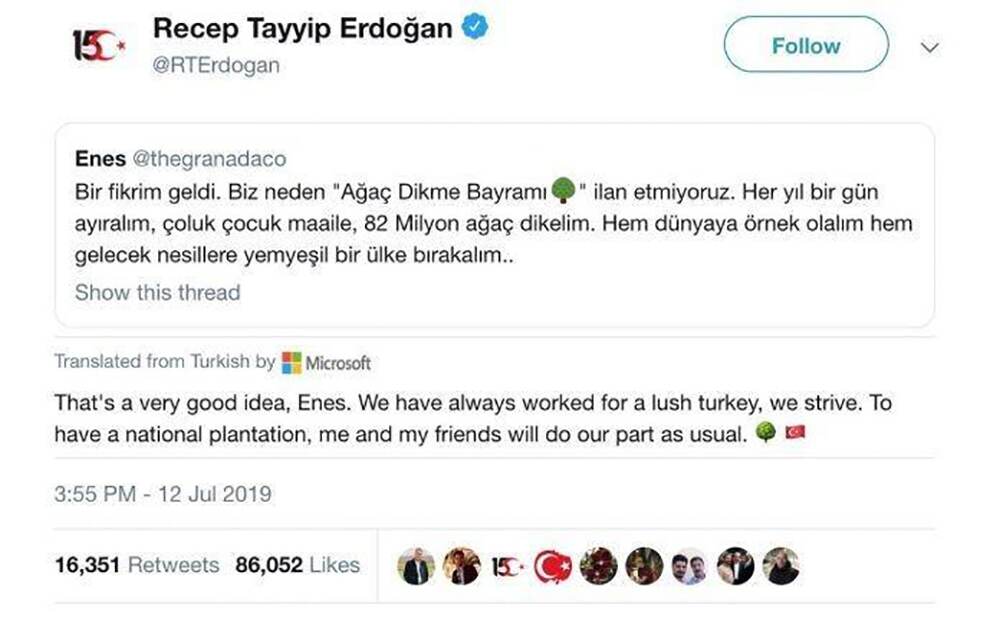 Turkish government official Rumeysa Kadak who noticed Sahin's tweet and replied to him. The youngest elected deputy of the country replied saying that she would take Sahin's tweet ahead and soon Turkish President Recep Tayyip Erdogan took notice of it. Recep Tayyip replied to the tweet saying, "This is a great idea, Enes. We've always worked for a greener Turkey and continue to do so. My friends and I will undertake all responsibility to make sure that we have a national tree planting day." Şahin responded saying, "Mr President, we are very happy that you responded to our call. We are grateful that you are the voice of young people and hundreds of thousands."