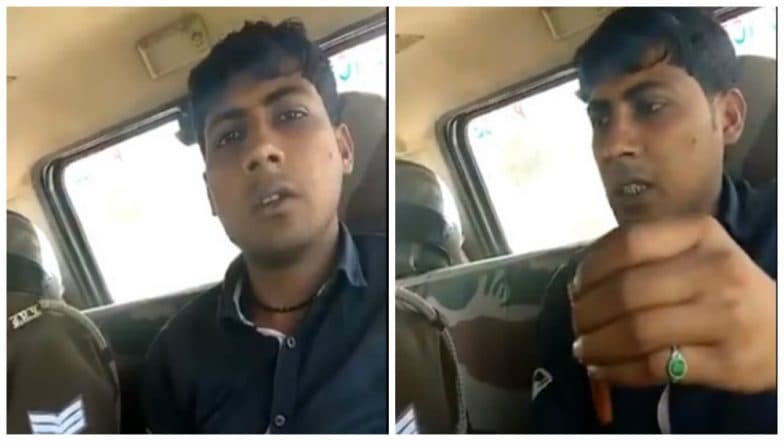 Lucknow, March 16: In a rather hilarious incident involving Uttar Pradesh police, a young man dialled 100- UP Police Emergency number, because he wanted to travel to Gunnaur in police vehicle as he did not have the money to pay for a bus ride. When a policeman tells him that this is a police vehicle not meant for public transportation, the man shoots back saying, "Whatever be the case, this is a government vehicle so why can't I travel in it?" The man's reply leaves the police speechless. Police Pistol Gets Jammed During Encounter, UP Cops Shout 'Thain Thain' to Threaten Criminals! Watch Viral Video from Sambhal.
The video of the incident was shared on social media and Twitter. It is not clear who recorded the video. However, it is clear that the man is in police vehicle and is being questioned by UP policemen. Uttar Pradesh Police's 'Thain Thain' Gets a Counter-Strike Version (Watch Video).
The odd interaction also has other funny elements to it. When the police asks him "nasha washa karte ho kuch?" (Do you do drugs?), the man replies, "nasha nahi karta mai, mai chillum pita hun bachpane se." (I don't do drugs, only take chillum from childhood). The man also says that "I am educated." Uttar Pradesh Cop Who Shouted 'Thain Thain' During Encounter, Injured in a Gunfight With Criminals.
Watch the hilarious Video - Part 1
Hats off to @Uppolice

What all they deal with pic.twitter.com/qBS8qynV6t

— Saurabh Dwivedi (@saurabhtop) March 16, 2019
The second part of the video is even more "entertaining" and can rival an Anurag Kashyap film, said Twitter users.
Watch the second part of the video below:
2nd Part pic.twitter.com/Wvb7737XGE

— Tushar Chauhan 🇮🇳 (@tushrchauhan) March 16, 2019
The sheer nonchalant of the person in the police van and his refusal to accept his mistake even in the face of police is making social media go bonkers over this video. Only a few months ago, a UP policeman was heard mimicking a gunshot sound by shouting "Thain Thain" during an encounter when he ran out of bullets. The video had gone viral, with questions raised on UP police's preparedness and the policeman praised in equal measure.