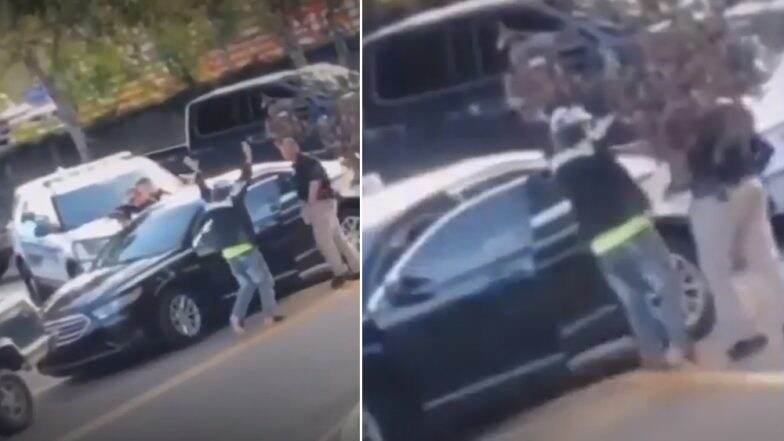 A recent video that is going viral will melt your heart. A video of a two-year-old walking towards police with his hands up is doing rounds on the internet and people cannot keep calm. The video is reportedly from Tallahassee, Florida wherein a police vehicle stopped a vehicle in the parking lot of the centre and ordered the driver to exit the truck, as per reports by WTXL. The reports further suggest that the police had received a report of possible shoplifting at the Bealls Outlet Shopping centre and according to the Police one of the suspects may even have an arm tucked under the waistband. Salman Khan's Lookalike from Karachi, Pakistan Is Going Viral on the Internet, Twitter Reactions Are Hilarious (Watch video.)
The video shows one of the suspects who is handcuffed leave the truck and after which a two-year-old exits the vehicle and follows the footsteps of the suspect and walk towards the police. Another footage also showed that there was another toddler 1-year old who was seated inside the vehicle.
Take a look at the video of a two-year-old walking with hands up towards the Florida Police- 
Tallahassee Police Chief Michael DeLeo said to WTXL in a statement that the girl, "imitated her parents by walking to the officers with her hands raised." DeLeo further said that the video made him "proud of how our officers handled the situation, how they adapted when they became aware of the children and the level of concern and compassion they showed to the family." According to reports by WTXL, DeLeo found a pellet gun in the vehicle, and the accused, Bom and McMullen has been charged with theft.